The Ricovero Sotto le Crete is one of many old military installations high above the Fella and Rio Simon valley. Built in 1911, today only ruins remain in an impressive and lonely area. As far as I know this place never saw battle.
There are several possible paths to reach this place. The most straight-forward route is path 424 starting near a childrens playground in Roveredo. You'll ascend the deep valley of Rio Simon reaching the cache in about 3 hours. Path 425 starts at the bridge over Rio Simon and reaches the cache via the valley of Rio Cuestis in about 4 hours.
Of course you could combine this cache with any of the impressive mountains surrounding this area. The 'Via alta Moggio Udinese' travels over Mte. Pisimoni, Mte. Crostis to the mighty Zuc dal Bor, with a possible stop (and several lost height-meters) at the cache location.
Possible routes: Val Alba - Zuc dal Bor - Cache - Roveredo: (visit link) (german)
Valley of Rio Simon: (visit link) , (visit link)
The cache is hidden inside the ruin. Take good hiking boots and a map of the area with you - watch where you are going at crossroads, sometimes finding the right path can be a bit tricky.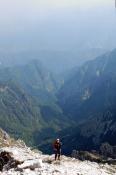 High above Rio Simon
Path 425 between Forc. Fonderis and the cache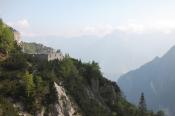 Ricovero Sotto le Crete Spoiler

Suche Caches im Umkreis: alle - suchbare - gleiche Cacheart



Download als Datei: GPX - LOC - KML - OV2 - OVL - TXT


Mit dem Herunterladen dieser Datei akzeptierst du unsere Nutzungsbedingungen und Datenlizenz.