please read the description carefully, before you go on site!
Castell de Bellver is a Gothic fortification built by order of King Jaume II of Mallorca between 1300 and 1311, under the supervision of Ponc Descoll. Five rooms on the ground floor are devoted to the Museu d´Historia de la Ciutat, which exhibits pieces proceeding from archaeological digs and the collection of Cardinal Despuig.
Even it is in the centre of Palma, it is a quite and green place with a scenic view and interesting things to discover. A visit of the castell is highly recommended, which costs you a fee of 4 €. But it is up to you, for the cache it isn´t necessary to enter the castle. This cache will guide you to the nearby Parc de Bellver.
By car follow the purple signs "Castell de Bellver" to waypoint VIAC. Parking is possible close to stage 1 and 2 free of charge. By foot you can take stairs starting at VIAP through the parc. Take a look to the opening hours (picture below). It´s also possible to visit this place during your City Sightseeing Hop On Hop Off Tour of Palma de Mallorca.
Stage 1 : N39° 33.855 E002° 37.191
A=number of stairs from the road up to the small bridge
B=number of windows missing on fake picture TORRE (don't forget it !)

Stage 2 : N39° 33.795 E002° 37.150
C=number of iron stairs of the staircase
D=add all digits on the stone plate, left side of the staircase

A footpath/trail guides you close to the
Cache : N39° 33.[988-A*B] E002° 36.[A*D+C+83]

Enjoy it and have a nice time on Mallorca
Team Homer Jay

last update 14-12-2011

Zusätzliche Wegpunkte

andere Koordinatensysteme
| | |
| --- | --- |
| | Station oder Referenzpunkt |

N 39° 34.027'
E 002° 37.437'
VIAC: entrance by car, pay attention to the opening hours !

| | |
| --- | --- |
| | Station oder Referenzpunkt |

N 39° 33.817'
E 002° 37.432'
VIAP: entrance by foot (stairs), if you are using public transportation

| | |
| --- | --- |
| | Station oder Referenzpunkt |

N 39° 33.856'
E 002° 37.191'
STAGE 1: count stairs and missing windows.

| | |
| --- | --- |
| | Station oder Referenzpunkt |

N 39° 33.795'
E 002° 37.150'
STAGE 2: stone plate and iron stairs

Die zusätzlichen Wegpunkte werden bei Auswahl des Caches auf der Karte angezeigt, sind in heruntergeladenen GPX-Dateien enthalten und werden an das GPS-Gerät gesendet.

Verschlüsselter Hinweis

Entschlüsseln
sbbg bs n gerr, pbirerq ol n fgbar
A|B|C|D|E|F|G|H|I|J|K|L|M
N|O|P|Q|R|S|T|U|V|W|X|Y|Z
opening hours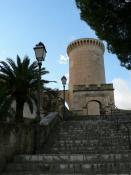 stage 1: torre fake image - please make a printout !!!
Castell inside spoiler

Suche Caches im Umkreis: alle - suchbare - gleiche Cacheart



Download als Datei: GPX - LOC - KML - OV2 - OVL - TXT


Mit dem Herunterladen dieser Datei akzeptierst du unsere Nutzungsbedingungen und Datenlizenz.