Attention! This Geocache is "Archived"! There is no physical container at the specified (or to be determined) coordinates. In the interest of the place it should not be necessarily to search!
N 49° 24.885' E 008° 09.939' (WGS84)


Convert coordinates
Size: normal
Status: Archived
Hidden on: 21 March 2004
Listed since: 08 September 2005
Last update: 15 June 2011
Listing: https://opencaching.de/OC010C
Also listed at: geocaching.com

30 Found
0 Not found
5 Notes
5 Watchers
1 Ignorers
31 Page visits
2 Log pictures
Geokrety history
1 Recommendations


Description Deutsch · English
English:

The coordinates lead you to the so-called "Heidenloecher" (heathen holes), a cultural monument located on the Kirchberg (church hill) above the little town Deidesheim. A circular barrier wall of 450 m length encloses the forti-fied mountain settlement from Carolingian time (9./10. century) with foundations of 65 stone houses (at that time a rarity) and two door constructions. This village was probably built as fleeing castle to the protection from Normans and Huns attacks.
A breakpoint with beautiful prospect offers N 49° 24.896 E 008° 10.245. You can park at N 49° 24.746 E 008° 10.171. Follow the red points, it is a smaller tour of approx. 3 km all in all. Please hide the cache well after your found.

Have fun!



Pictures Spoiler 1 (von oben/from above) Spoiler 2 (von unten/from below)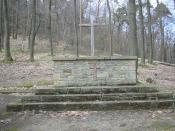 Zwischenstation

Utilities
This geocache is probably placed within the following protected areas (Info): Biosphärenreservat Pfälzerwald (Info), Naturpark Pfälzerwald (Info), Vogelschutzgebiet Haardtrand (Info)

Show cache recommendations from users that recommended this geocache: all


Search geocaches nearby: all - searchable - same type



Download as file: GPX - LOC - KML - OV2 - OVL - TXT - QR-Code

When downloading this file, you accept our terms of use and Data license.


Log entries for Heidenloecher

30x

0x

5x


18 February 2014 Barfly found the geocache
Auf der Ultima Runde hier vorbeigekommen. TFTC.
Lg Barfly

09 December 2012 xtqx1 found the geocache
Schon seit Jahren hatte ich diese historisch bedeutsame Stelle für einen Besuch vorgemerkt, heute hat es dann auch endlich geklappt, den Plan in die Tat umzusetzen.
Gemeinsam mit Lettertrolline war es eine gemütliche Runde durch den verschneiten Winterwald, nur der ab und zu heftig wehende Wind sorgte für ein klein wenig ungemütliche Stimmung. Das Tat der Sache jedoch keinen Abbruch, wir genossen die Gegend und bewunderten diese interessante Örtlichkeit. Vor Ort war die Dose in ihrem eindeutigen Versteck schnell entdeckt (was auch ganz gut so ist, denn an dieser Stelle würde ich sicherlich nicht in der Mauer herumgrabbeln wollen).

in: Coin/TB

Danke für den Cache
xtqx1

23 July 2011 kruemelhuepfer found the geocache
Auf der heutigen Wanderung durch Wald und Reben einen kleinen Abstecher hinauf zu den Heidenlöchern gemacht. Ein Blick und das Versteck war entdeckt. Immer wieder schön, hier oben zu sein.
DfdC sagt kruemelhuepfer.

23.07.11 11:23 / Nachtrag von geocaching.com

06 October 2010 Ryo found the geocache
What an interesting place.
Maybe I'll come back at night here.
Thanks a lot for showing.
There is a Wikipedia article available, too: http://de.wikipedia.org/wiki/Heidenl%C3%B6cher_(Pfalz)
TFTC
Ryo


10 April 2010 Die Spürnasen XXL found the geocache
Vielen Dank fürs Zeigen dieses tollen Ortes.
Die Spürnasen XXL


[Show all log entries]