Pi
Eine Reise zu den Geheimnissen der Zahl Pi
by Vinnie & Nici

Germany > Nordrhein-Westfalen > Oberbergischer Kreis
N 51° 00.000' E 007° 20.000' (WGS84)


Convert coordinates
Size: normal
Status: Available
Hidden on: 15 November 2003
Listed since: 15 September 2005
Last update: 07 February 2017
Listing: https://opencaching.de/OC0143


11 Found
1 Not found
4 Notes
2 Maintenance logs
7 Watchers
0 Ignorers
747 Page visits
1 Log picture
Geokrety history
2 Recommendations

Route


Listing

Preparation needed



Description Deutsch (German)
Dieser Cache ist ein besonderer. Seine Vorbereitung reicht in die Zeit der Erschaffung des Universums, der Erfindung von Raum und Zeit, der Definition der Naturgesetze und -konstanten. Das göttliche Wesen Foobar legte am 8. Tag der Schöpfung einen Cache an, durch den die Menschheit Äonen später - wenn sie denn reif für die Wahrheit ist - den Sinn all dessen erfahren sollte. In seiner Weisheit schuf es die Zahl Pi und verewigte die Koordinaten in ihren Nachkommastellen.

Die eine Koordinate markierte es, indem es ihr eine Serie aus sechs gleichen Ziffern folgen ließ. Später setzte Foobar noch weitere Markierungen dieser Art, diese blieb jedoch die erste.

Der zweiten Koordinate liess Foobar zunächst 265 Ziffern folgen, die in kodierter Form sein Lieblingsrezept für Schwarzwälder Kirschtorte enthalten, und schließlich wieder eine "Markierung" aus SIEBEN gleichen Ziffern. Auch diese Markierung ist die erste ihrer Art, die Foobar in Pi einfügte.

Foobar benutzte beim Anlegen des Caches das Modell "Garmin PHD 00" (PHD steht für "Prehistoric Device"), welches leider nur eine Genauigkeit von etwa 20 Metern hatte, aber schon WGS84 kannte. Um den Cache später sicher wiederzufinden, fertigte er eine Zeichung an...

****** english version ******

This is a special cache. The preparation of this cache started in ancient times, when the universe was created, space and time were invented and the laws of nature, mathematical constants were defined. At the eight day of creation the numen Foobar planted a cache from which mankind was to learn the meaning of life - eons of years later, when it would be mature enough to learn the truth. In his endless wisdom Foobar created the number 'Pi' and eternalized the coordinates inside it's decimals.

Foobar marked one of the coordinates by a following series of six identical digits. Later on he inserted other marks like that into Pi, but this mark still is the first one.

With the second coordinate he did something else: He had the coordinate followed by 265 digits in which he coded his favourite recipe for 'Schwarzwälder-Kirschtorte'. Then he inserted a mark of seven identical digits. This also is the first mark of this kind he put into Pi.

For his geocaching Foobar used the GPS device "Garmin PHD 00" (PHD stood for "Prehistoric Device"), which had an EPE of only 20 meters but already knew WGS84. In order to be able to find his cache later on he drew a sketch of the location...

Pictures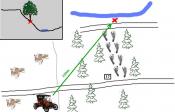 Foobars Zeichnung/Foobar\'s Sketch

Utilities
This geocache is probably placed within the following protected areas (Info): Naturpark Bergisches Land (Info)

Show cache recommendations from users that recommended this geocache: all


Search geocaches nearby: all - searchable - same type



Download as file: GPX - LOC - KML - OV2 - OVL - TXT


When downloading this file, you accept our terms of use and Data license.


Log entries for Pi

11x

1x

4x

2x


[Show all log entries]