Satisfied about my cache tour today, I decided to have a beer in our local pub before returning home. I payed at the bar, grabbed my glass and just wanted to search for a free chair, when I heard a voice: "What are you having there, boy?"
I turned around and saw Fritz. As usually in local pubs you will always meet the same people, sometimes more, sometimes less. But since I entered this pub for the first time it was the fact, that Fritz was already there whenever I entered. And when I left, Fritz was still there. And he always had the same place. Nobody knew neither where he came from, nor what he was doing. And because he rarely spoke anything, there were lots of rumors going round about him. So I was very amazed that he talked to me this evening.
Fritz pointed at my chest. "There, this yellow thing around your neck, boy. Is it a talisman?" Now I noticed my yellow eTrex, which was still hanging around my neck. "This is... it's a GPS receiver... some kind of electronic compass." I tried to explain. I must admit, it seems not to be very logical to run around with a compass, in a small village with about only ten streets. So I took place beside him and started to explain: how a GPSR works, and what it's all about geocaching. Fritz didn't interrupt me, but sometimes I could see him shaking his head, and sometimes something like "if we only had had this thing in those days..." came over his lips.
When I had finished drinking my beer, I said goodbye to Fritz and tried to leave, but again I heard Fritz calling: "Wait, boy!"
I turned around again. He was searching something in his pocket. Seconds later he took out a small, leathery and very old book which he handed over to me while he was whispering: "I've waited such a long time for someone like you. You seem to be worth to find the secret... Schertler doesn't seem to return anymore... look inside this booklet, you'll find all you need to know about it. Ask your friends from your compass-game for help, if you don't manage to find it on your own."
I took the book and tried to speak, but Fritz interrupted me. "Don't speak. Read. Read and understand. And act. Good luck!"
I left the pub without turning around again. Two minutes later I was at home. I was so curious that I didn't find time to log my today's finds on the internet. When I reached the living room and my sofa, I took Fritz' diary and started reading...
Fritz Kramer's diary,
born August 28th, 1926

Interested I was browsing through the little book. I learned that Fritz became a war correspondent in WW II, because he thought that would be helpful for his career. I searched for the page that he obviously mentioned in the pub and found it in the last quarter of his already extremely torn diary:
January 4th, 1945
It's pitch dark as I wake up. My leg still hurts, but the fever has decreased and my thoughts are clearer now. I don't know how long I slept, only that I got wound and lieutenant Schertler carried me inside this bunker. Schertler always treated me as a friend since I came to his unit. Although I am a civilist and thus a stranger in a fighting unit. Schertler often told me about his life: about his brother, who did the best he could do when he left Germany before the war started, about his former school friend and, later, army comrad Landzettel, with whom he fought '42 at the east front and particularly about Enigma, the cipher machine. With Enigma, it was possible to exchange coded message between two locations, with no possibility for the allied forces to read them. I must admit that I didn't have any idea about the technical Enigma details that Schertler seemed to adore so much. But what I learned was, that Enigma's rotors should not at all fall in enemy's hands.
And in that moment I remembered my feverish dream from last night. It began with a loud explosion, followed by hecticness, screams, salvoes, running soldiers. In that dream, Schertler came to me. He was very hysterical and said we have to leave the bunker and this area at once. But I was unable to walk. I called on him to do what he had to do and to leave me back here. Probably they won't hurt a civilist from the press. Schertler tried to persuade me, but finally he recognized that this would be the best solution for all. Before he left, he gave me a small package and said "I often told you about Enigma. Here are the rotors. Take them and hide them from the enemy. Good luck!" Lieutenant Schertler was the last person who left the bunker. There's nothing more I can remember.
Slowly the dawn is breaking in. It is a bit amazing that I can't hear any of the soldiers, who are up long before dawn normally. I try to get out of my sleeping bag. My leg still hurts, but I'm able to get up. Suddenly I shiver: there is an object in the sleeping bag that I don't know. I grab inside and take out a package. I open it and shiver again: it contains the five rotors of Enigma!
It hasn't been a dream that I had last night. I trudge myself along the long aisle of the bunker, my backpack with my camera in one hand and the rotor package in the other hand. Not a single soldier was there, only a few pieces of equipment they left back. Cautiously I leave the bunker, but here the situation is the same than inside: not a single soldier hanging around! Now I'm sure that my dream was real!
I take compass and camera out of my backpack and leave the backpack itself in the bushes. I also take the rotors with me. My destination is the staff bunker, which is about 150 steps from here, direction northnorthwest. After three quart of the way I normally should arrive at the ammunition bunker. But at the place where the ammo bunker rose from the floor like a fort, I can only see a hump. I interrupt my course and go round the hump one time. A part of the northeastern wall is still standing. I remember my actual profession and take a photo. The striking, hollow trunk on the west side is still there. I move another few meters to the north and reach the staff bunker - or better it's remnants after last night's attacks. I also take a photo of this location. About 60 meters in direction westsouthwest, at the supply bunker, the situation is almost the same as at the staff bunker. The remnants of a fallen tree seem to have buried the mighty concrete anchors of the heavy ordnance that stood here. I also take a photo here.
Thank god - the soldiers seem to have escaped without any wounded or dead comrads last night. Slowly I go back. I can hear a thunder, followed by a long and deep mumble from the direction I'm going to. When I arrive at the bunker where I slept last night, I notice that also this bunker is mouldered. Only a part of the entrance is still visible. I take a last photo. Then I place my camera and compass inside the backpack again, put it on my back and go away. Finally I remember an adequate hiding place for the rotors. My destination is a small mountain with a secret hiding place, which Schertler showed me a few weeks ago. After a long search I finally find it and place the rotors there. After that I determine the coordinates of the hiding place with my military map and compass.
I divide the minute parts of the north and east coordinate respectively (the whole degrees are: 49°N and 11°E) in two parts (which are not of the same size). I've got now four different numbers which I encipher with the playfair cipher and hide them. Each of the four numbers at one of the places I took photos from. For one of the places there's also a sketch displaying the exact hiding place. Only he who has both the photos and sketch will be able to find the rotors. Lieutenant Schertler will be able to find them when he'll return to this place. He will be the only one who knows the decryption code for the playfair cipher: His former school friend and army comrad had a favorite horse with a name that consisted of two nouns. And so did the accomodation where he slept after the battle of Wolchow in the beginning of july. The decryption code consists of the first part of the horse's name, followed by the second part of the name of the accomodation.
So far the abridgment of Fritz' diary. Of course that's not all he wrote, but the most important for finding this cache. Of course I started to search for the Enigma rotors as soon as the next morning. I found them in the mentioned hiding place and brought them to the German Museum in Munich where you can have a look at it. In order to keep the search interesting for you, I've hidden a geocache at the place where I found the rotors.
Tips and notes:
Begin with searching the bunker where Fritz slept in the night to 4th of january and follow his diary then.
You'll find the coordinate fragments in micro caches. Each micro cache contains enough slips. Please take one out of each micro and leave the rest for other cachers yet to come.
There are four solutions to combine the four coordinate fragments, so there would also be four possible end coordinates. The correct one is the one that is nearest to the cache coordinates in the header.
The cache area was our adventure playground when we were children. Although most of the bunkers are closed now, there are several walls with a height of 2 meters or more. So please have an eye on your children if they go caching with you.
Keep in mind that after 60 years the area on the photos might have changed a bit - particularly there might be more trees now.
I advise hiking boots. Additional you should have a compass, paper and pencil with you.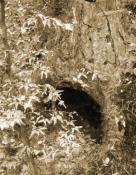 Baumstamm am zentralen Munitionsbunker / hollow trunk at the ammo bunker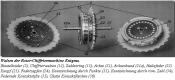 Die Enigma-Walzen, die Fritz versteckt hat / the enigma rotors Fritz hid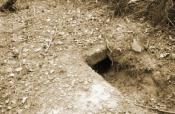 Der Bunker in dem Fritz die erste Nacht schlief. The bunker where Fritz slept the first night.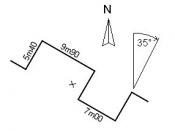 Schema / sketch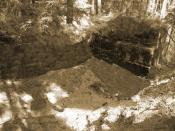 Stabsbunker / staff bunker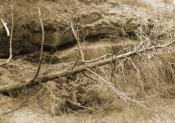 Versorgungsbunker / supply bunker SPOILER! Das Ziel / the cache hiding place