Descripción Deutsch · English (Inglés)

(http://webcam.osnabrueck.de)

The usual webcam cache rules apply:
You may only log a find if you attach a valid photo to your posting,
i. e. you have to be clearly recognisable in the picture.
(Please do not forget to add a marking in the picture to show your position.)
You should look for a good spot, for instance the two manhole covers (see marking in the picture attached to the cache description).
If there is a christmas fair, like when the cache was set up, it is a little harder to find a good position...
Be patient. The webcam takes a picture every 3 minutes, without archiving it.
If you intend to save the photos of the webcam at home automatically:
A person whom you can call and who checks whether the picture with you in front of the webcam is alright is advisable.
You have nobody available who could save the picture for you? No problem!
El Achimo's service for webcam caches (free!):
before you leave, enter e-mail address, mobile number and URL of the picture (http://webcam.osnabrueck.de/webcam/www-data/aktuell.jpg);
at the location, dial El Achimo's number and let it ring a few times. That's it!
The picture will be e-mailed to you automatically.
You don't need to do something silly, but you may if you wish...
Anything that's legal and helps to make you better recognisable (for instance being flashily-dressed) is acceptable. [;)]
With a little luck it should also be possible to do this cache in the dark.
The cache has also been listed at
www.geocaching.com
and
www.navicache.com
.
Have fun!
Der Platz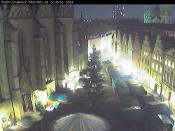 Platz bei Nacht (mit Weihnachtsmarkt)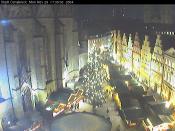 Platz mit Weihnachtsmarkt im Dunkeln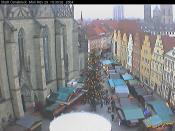 Platz mit Weihnachtsmarkt und West468

Buscar geocaches en las inmediaciones: todo - búsqueda - mismo tipo



Descargar como archivo: GPX - LOC - KML - OV2 - OVL - TXT


Al descargar este archivo, aceptas nuestros terminos de uso y Licencia de Datos.