Achtung! Dieser Geocache ist "archiviert"! Es befindet sich kein Behälter an den angegebenen (oder zu ermittelnden) Koordinaten. Im Interesse des Ortes sollte von einer Suche unbedingt abgesehen werden!
N 48° 16.498' E 016° 21.422' (WGS84)


andere Koordinatensysteme
Größe: normal
Status: archiviert
Zeitaufwand: 2:00 h Strecke: 6 km
Versteckt am: 28. März 2003
Gelistet seit: 27. November 2005
Letzte Änderung: 05. März 2013
Listing: https://opencaching.de/OC0F9F
Auch gelistet auf: geocaching.com

10 gefunden
0 nicht gefunden
0 Bemerkungen
3 Beobachter
0 Ignorierer
9 Aufrufe
4 Logbilder
Geokrety-Verlauf


Beschreibung Deutsch · English
Start at Nussdorf (approach via Line D or U6/U4 up to Spittelau) or - if you don´t want to walk 20min next to the Danube - Kahlenbergdorf (approach U6/U4 to Spittelau then Bus). Time to get there from the city-center is about 30min. The first station is at N 48° 16.498 E 16° 21.422. Find a waterlevel-gauge and write down the highest value that can be measured (written in red) - this is A. Say goodby to the Danube since it´s going steeply upwards from now. Stage 2 can be found at
N 48° 16.(A + 450)
E 16° 21.(A - 36)
under a small rockface (35mm micro).
There´s a sheet of paper inside with two numbers B and C and the coordinates of Stage 3. You can stay on the unmarked path if you want - it also leads to your goal and is - at least in my opinion - much more interesting than the marked path.
Continue to Stage 3, the highest point of this multicache. At the coordinates you´ll find a high building with some large letters in golden paint on its side. Write down the 4-digit number in the third row. This is D Now you have all information to calculate the final coordinates.
The cache is at
N 48° 16.(D - B)
E 16° 20.(D - C).

How to get there is up to you, but rest assured that an unmarked but easily found track leads to the final destination. Any trackless approaches are only suitable for real masochists.
The cache is hidden beneath a cairn of stones at the base of a tree (Please re-hide it *well* )

Bilder Spoiler - Stage 2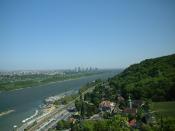 Ausblick von Stage 2
Aussicht im Bereich des Caches

Hilfreiches

Suche Caches im Umkreis: alle - suchbare - gleiche Cacheart



Download als Datei: GPX - LOC - KML - OV2 - OVL - TXT


Mit dem Herunterladen dieser Datei akzeptierst du unsere Nutzungsbedingungen und Datenlizenz.


Logeinträge für Mont Calvus

10x

0x

0x


[Alle Logeinträge anzeigen]