Description Deutsch (German)
Ich dachte, das wäre der Dreizack... weil das mit dem Dezimal und Hexendezimal ist echt schwer für so'n kleinen Esel wie mich.
Bin schließlich erst fümpf.
Aber nachdem Murkel mir das mit den Zahlen erklärt hatte, hab ich ganz allein rausgefindet, wo der Dreizack wirklich ist!
Und weil ich beim Suchen diesen voll schönen Versteckplatz gefindet hab, dürft Ihr da jetzt suchen. Und finden.
Ist echt klein, der Cache. Deshalb: Wenn Ihr was zum Tauschen mitbringt, nicht größer als 11 mm Durchmesser!
Hab trotzdem voll viel reingetan:
1 Kettenanhänger
2 Muscheln
3 Feuerbohnen (zum Einpflanzen!)
3 Maiskörner (auch zum Einpflanzen!)
4 Labradorit-Perlen
Deshalb war kein Platz mehr für ein Logbuch. Also nicht vergessen:
Kennwort merken oder aufschreiben und ins Online-Logbuch eintragen!
Beschreibung ohne GPS vom Parkplatz aus:
Den Parkplatz in nordwestlicher Richtung verlassen.
Nach ca. 100 Metern gabelt sich der Weg, rechts halten, also runter vom Hüttenweg.
Nächsten Abzweig nach rechts in den Wald.
An der nächsten Kreuzung geradeaus/schräg links weiter.
An der nächsten Kreuzung nach rechts abbiegen.
An der nächsten Kreuzung links, dem Hauptweg folgen.
Nachdem zwei kleinere Wege kreuzten, sucht rechts des Weges nach dem Dreizack.

Additional waypoints

Convert coordinates
| | |
| --- | --- |
| | Parking |

N 52° 28.161'
E 013° 14.109'
Parkplatz Avus/Hüttenweg

The additional waypoints are shown on the map when the cache is selected, are included in GPX file downloads and will be sent to the GPS device.
ovggr avpug vz obqra ohqqrya
A|B|C|D|E|F|G|H|I|J|K|L|M
N|O|P|Q|R|S|T|U|V|W|X|Y|Z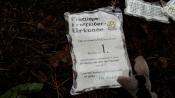 Erstlingserstfinderurkunde
This geocache is probably placed within the following protected areas (Info): FFH-Gebiet Grunewald (Info), Landschaftsschutzgebiet Grunewald (Info), Vogelschutzgebiet Grunewald (Info)

Show cache recommendations from users that recommended this geocache: all


Search geocaches nearby: all - searchable - same type



Download as file: GPX - LOC - KML - OV2 - OVL - TXT


When downloading this file, you accept our terms of use and Data license.