Schlierbach 2
Nach Schlierbach 1 nun die Fortsetzung ...
by oe5reo

Austria > Oberösterreich > Steyr-Kirchdorf
Attention! This Geocache is "Locked, visible"! There is no physical container at the specified (or to be determined) coordinates. In the interest of the place it should not be necessarily to search!
N 47° 55.500' E 014° 07.800' (WGS84)


Convert coordinates
Size: small
Status: Locked, visible
Hidden on: 11 October 2004
Listed since: 21 January 2006
Last update: 14 February 2016
Listing: https://opencaching.de/OC160C
Also listed at: geocaching.com

13 Found
0 Not found
2 Notes
2 Maintenance logs
1 Watcher
0 Ignorers
59 Page visits
3 Log pictures
Geokrety history


Description Deutsch (German) · English

Ein wenig schwerer als Schlierbach 1. Es ist auch Schlierbach 3 aktiv.
Keine spezielle Ausrüstung notwendig, gute Bergschuhe sind jedoch vorteilhaft.

Nahe dem Startpunkt kannst du dein Auto parken (Gasthaus Zeisl).
Folge dem gelben Pfeil mit der Aufschrift "RW ZEISL K82" ... aber zuerst

NOTIERE DIR DIE SEEHÖHE, DIE AUF DEM SCHILD STEHT!

SEEHÖHE = ???

Nach ca. 300 Meter teilt sich der Weg ... nimm den rechten Weg (Forststraße Schacha).

Biege hier rechts in den kleinen Waldweg ein

N 47°55.855'
E 14°07.785'

Der Cache ist hier versteckt:

N 47°55.(???-012)
E 14°07.(???+288)

VERGISS NICHT, DEN HINT FÜR "SCHLIERBACH 3" MITZUNEHMEN!



Additional hint

Decrypt
Hagre rvarz Onhz anur rvare Yvpughat
A|B|C|D|E|F|G|H|I|J|K|L|M
N|O|P|Q|R|S|T|U|V|W|X|Y|Z

Pictures Schlierbach 2 (Spoiler)
Schlierbach 2 (Gasthaus Zeisl)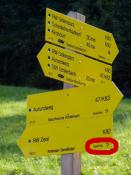 Schlierbach 2 (Schild)

Utilities

Search geocaches nearby: all - searchable - same type



Download as file: GPX - LOC - KML - OV2 - OVL - TXT


When downloading this file, you accept our terms of use and Data license.


Log entries for Schlierbach 2

13x

0x

2x

2x


10 October 2010 Angelface found the geocache
Nach Schlierbach1 auch die Nr.2 gefunden! Wunderschönes Plätzchen!!!!

Der Nächste bitte ien neues Sackerl mitnehmen!! Ist schon ziemlich mitgenommen!
Out: Kompass
In: Schutzengerl
Danke!
Angleface

30 July 2008 Gustus found the geocache
Nr1 haben wir schon Anfang des Jahres besucht. Jetzt waren die beiden Anderen an der Reihe. Schöner Spaziergang. Kann man nur empfehlen. Danke fürs Verstecken.

23 February 2008 wandersmann_OOE found the geocache
Ganz schon steiler Aufstieg um zum Cache zu gelangen.
Aber die Mühe war´s wert.
TFTC, lg wandersmann_OOE
IN: Tiger Janosch
OUT: TB Zenzi


[Show all log entries]