Achtung! Dieser Geocache ist "gesperrt"! Es befindet sich kein Behälter an den angegebenen (oder zu ermittelnden) Koordinaten. Im Interesse des Ortes sollte von einer Suche unbedingt abgesehen werden!
You will find the latest and actual cache description on gc.com !!!



This tour will guide you to the highest point of the peninsula La Victoria - the Atalaya de Alcudia. Here you are having maybe the best view to the bay of Alcudia and Pollensa. And if you are in luck, you will see and hear some cabras (Spanish word for goats).

tour information :

requirements :
good

footwear !

dry weather conditions

enough water (especially in summer time)

long or

zippable

pants

vertigo might be a problem

don't forget the picture of STAGE1

remarks :
it

is not necessary to leave the trails except at the cache location. The path is more or less good visible. Stone

pyramides

or some red marks (uphill) will guide you – see attached pictures. It is an official trail, which is marked e.g. in a

Kompass

-map.

but

remember : you

don´t

have to go into any risk and you are responsible for yourself !

finding the parking place :
At waypoint VIA1 in Alcudia follow the sign to Es Mal Pas. VIA2 and VIA3 is your next target. Don't be afraid (danger photo). You are still on public ground.
Now the road is getting a little bit rough, but it is good accessible. Another photo shows you the START waypoint and a place, where you can leave your car.
Advise : don't trust your Metroguide/Cityselect Map anytime. Of course there are other roads, but not everyone is public.
the cache tasks :
If you are prepared, follow the path to Platja des Coll Baix to waypoint STAGE1.
A=number of tables AND bench outside of the hut
B=how many big stone are hidden behind the red box (see picture !!!)
Now continue the hike and start your ascent to the summit and STAGE2. The trail is good visible. Reaching the summit take a break, relax and make some nice pictures. Than solve task 2 :
C=number of windows of the house without roof
What´s the colour of the windows of the other house ?
yellow - D=9
red – D=4
green – D=8
blue – D=6
brown – D=7
black – D=5
Now you have everything you need to find the cache. Go a few metres back to waypoint DOWN. This small trail is your way downwards to the cache and of course back to the car.
cache coordinates : N39° 51.DC0 E003° 10.BAB

Now go downhill to
waypoint
PASS.
Turn left and after a small dip go uphill again, to find the best way back to your car.
Enjoy it and have a nice time on
Mallorca
!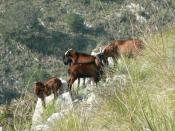 cabras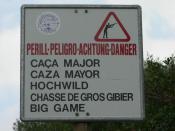 danger - big game ? no, it is public area !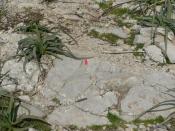 red mark uphill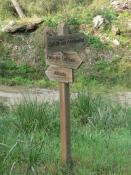 START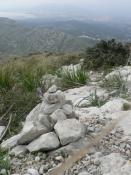 stone pyramid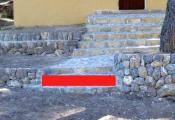 STAGE1

Cache-Empfehlungen von Benutzern, die diesen Geocache empfohlen haben: alle


Suche Caches im Umkreis: alle - suchbare - gleiche Cacheart



Download als Datei: GPX - LOC - KML - OV2 - OVL - TXT - QR-Code

Mit dem Herunterladen dieser Datei akzeptierst du unsere Nutzungsbedingungen und Datenlizenz.