Attention! This Geocache is "Archived"! There is no physical container at the specified (or to be determined) coordinates. In the interest of the place it should not be necessarily to search!
N 47° 34.306' E 012° 56.330' (WGS84)


Convert coordinates
Size: normal
Status: Archived
Time required: 9:00 h Route: 10 km
Hidden on: 06 July 2006
Listed since: 26 July 2006
Last update: 04 October 2011
Listing: https://opencaching.de/OC220E


12 Found
2 Not found
1 Note
2 Watchers
1 Ignorers
136 Page visits
0 Log pictures
Geokrety history

Route


Description Deutsch (German)
Ganz weit oben ... einer der höchsten Caches Deutschland.
Der Weg dahin ist herrlich, der Ausblick einmalig.
Aber es gibt nur einen Weg dorthin, direkt am Cache vorbei.
Weiter oben sieht man schon die Quelle für ein kühles Radler.

Pictures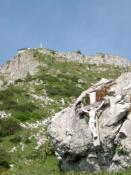 Am Horizon die Quelle für ein kühles Radler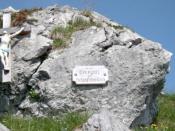 Beim Herrgott am Schaflboden Da liegt er ...

Utilities

This geocache is probably placed within a nature reserve! Please see here for further information.
Nationalpark Berchtesgaden (Info)
This geocache is probably placed within the following protected areas (Info): Biosphärenreservat Berchtesgaden (Info), FFH-Gebiet Nationalpark Berchtesgaden (Info), Vogelschutzgebiet Nationalpark Berchtesgaden (Info)

Search geocaches nearby: all - searchable - same type



Download as file: GPX - LOC - KML - OV2 - OVL - TXT


When downloading this file, you accept our terms of use and Data license.


Log entries for Beim Herrgott am Schaflboden

12x

2x

1x


[Show all log entries]