Attention ! Cette géocache est "archivé"! Il n'y a pas une conteneur physique aux coordonnées spécifiées (ou déterminées). Dans l'intérêt de l'endroit il ne devrait pas être nécessairement à la recherche !
N 49° 26.825' E 011° 06.515' (WGS84)


Autres systèmes de coordonnées
Taille : micro
Statut : archivé
Temps nécessaire : 0:30 h Distance : 1.0 km
Caché en : 07. juin 2005
Affiché depuis : 15. avril 2007
Dernière mise à jour : 13. août 2011
Inscription : https://opencaching.de/OC3389
Aussi listé au : geocaching.com

16 trouvé
0 pas trouvé
0 Remarques
1 Observateur
1 Ignoré
63 Visites de la page
0 Images de log
Histoire de Geokrety


Description Deutsch · English (Anglais)
At the given coordinates you find a picturesque castle amidst a pond. The Gleisshammer Estate was first mentioned in 1336 and lookes back on a turbulent history. After being heavily damaged by flood waters in 1845 it was bought by the factory owner Johannes Zeltner who refurbished it with a large monetary effort. Since then, the Name "Zeltnerschloss" (Zeltner Castle) has become widely accepted.

To find the cache, you now go for a short walk. There is no need to leave the ways, even when finally searching for the cache.

Next to the bridge leading to the castle you find a phone number just above the ground. The first digit after the prefix is the number A.

In the south, a tunnel leads under a railroad track. What is the maximum height for vehicles to pass through? This is the number B.

Straight before the tunnel you turn right in the small path. A lot of pylons are standing here. On one of them, about 100m ahead, a big white sign with a two-digit number is mounted. The second digit is the number C.

Further 30m ahead you turn right to stay on the small path. Again, lots of pylons are standing here. At the place where the path turns you can see them very good. Between the pylons, cables are tightened and some of them have little signs that have the shapes of a three-digit number cut out. By dividing the second digit through the first, you get D.

The small path now leads back to the road. To the right you see a wooden fence that has a small sign with a single digit. By adding 1 to this digit, you have E.

Next you come across a bridge, under which the water from the pond flows off. Some of the vertical railing poles are longer than the others, and on one side of the bridge are more of them than on the other side. How much more? This is the Number F.

Now you can search the place N49°26.ABC' E11°06.DEF' for the cach. Attention! The cache is significant smaller than the usual 35mm film tank. So trading is not possible here,
and you also will have to keep it short while logging. Please bring your own pen!

Have a lot of fun!
f-zappa


Images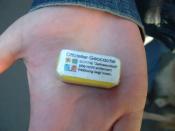 Der alte Cache Der Cache (SPOILER)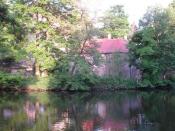 Zeltnerschloss - Blick ueber den Weiher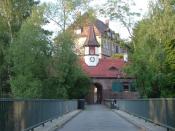 Zeltnerschloss - Der Eingang

Utilités

Chercher des géocaches prés: tous - trouvable - même type



Télécharger en fichier : GPX - LOC - KML - OV2 - OVL - TXT


Lors du téléchargement de ce fichier, vous acceptez nos conditions d'utilisation et la licence de données.


Logs pour Zeltnerschloss

16x

0x

0x


[Afficher tous les logs]