Attention! This Geocache is "Archived"! There is no physical container at the specified (or to be determined) coordinates. In the interest of the place it should not be necessarily to search!
N 50° 51.971' E 010° 28.521' (WGS84)


Convert coordinates
Size: normal
Status: Archived
Time required: 1:00 h
Hidden on: 17 October 2007
Listed since: 17 October 2007
Last update: 12 November 2018
Listing: https://opencaching.de/OC456B
Also listed at: geocaching.com

15 Found
0 Not found
0 Notes
1 Maintenance log
3 Watchers
0 Ignorers
178 Page visits
3 Log pictures
Geokrety history
1 Recommendations


Description Deutsch (German)
Der Cache liegt in ein kleinen Felsloch. Vorsicht mit Kindern es sind in Cachenähe viele Bodenspalten.
Viel Spass beim Finden.

Additional hint

Decrypt
Ibz Onhz zvg qra Angheqraxznyfpuvyq süueg rhpu rva hztrfgüemgre Onhz mhz Fpungm. Fvrur Fcbvyresbgb.
A|B|C|D|E|F|G|H|I|J|K|L|M
N|O|P|Q|R|S|T|U|V|W|X|Y|Z

Pictures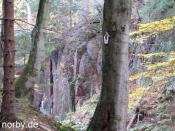 Windlöcher I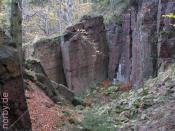 Windlöcher II Spoiler I Spoiler II

Utilities
This geocache is probably placed within the following protected areas (Info): Landschaftsschutzgebiet Thüringer Wald (Info), Naturpark Thüringer Wald (Info)

Show cache recommendations from users that recommended this geocache: all


Search geocaches nearby: all - searchable - same type



Download as file: GPX - LOC - KML - OV2 - OVL - TXT - QR-Code

When downloading this file, you accept our terms of use and Data license.


Log entries for Windlöcher

15x

0x

0x

1x


24 May 2014, 15:05 fanta2 found the geocache
Wunderschönes Fleckchen! Gut gefunden trotz strömendem Regen.
no trade

01 August 2012 CC2001 found the geocache
Heute schnell gefunden. Nachdem wir letztes Jahr schon einmal verzweifelt an einer anderen Stelle gesucht hatten( wer weiß warum uns das GPS dahin geführt hat), heute in der Mittagshitze unterwegs gewesen.
cc2001


02 April 2011 Frischluftschnapper found the geocache
Wir waren wieder frische Luft schnappen und haben den Schatz gefunden. Dieses Fleckel Thüringen kannten wir noch nicht. Toll!

02 April 2010 Tiak641 found the geocache
Dieser Ort hat etwas märchenhaftes und wie mein Vorgänger schon schrieb,ohne Geocaching
wären wir wohl nie hierher gekommen.
TFTC und ein großes Danke an Slow,für die Vorbereitung zu dieser Tour
sagen Tiak641 und sein Naturbursche.....

[Show all log entries]