Start your trip at the parking place near
N 46° 24.509 E13° 10.628
Follow the old donkey-road (until recently none of the two Mogessas could be reached by car) in about 1 to 1.5h to Mogessa di Qua.
The two villages are separated by the deep gorge of Rio del Mulin which takes its name from an old, now defunct mill at the bottom of the gorge. Thats where the cache is hidden.
Coming from Mogessa di Qua descend the path to its sister village until you can see the ruins of the mill below you. Find the tiny footpath which leads to the mill and search for the cache near the wooden waterwheel. You don't have to enter the ruins of the mill - the cache is hidden on its outer side.
You can find a thorough description of the hiking route
here
The whole roundtrip takes about 3h. If you want a longer hike you could cross the valley of T. Glagno and continue on to Stavoli, another village without roads.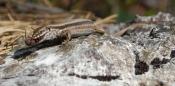 Dragon on the way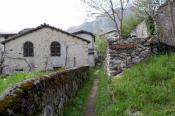 Mogessa di Qua
On the way
On the way_a Spoiler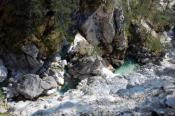 The canyon of Riu del Molin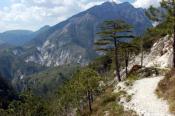 Way to Mogessa di Qua

Suche Caches im Umkreis: alle - suchbare - gleiche Cacheart



Download als Datei: GPX - LOC - KML - OV2 - OVL - TXT - QR-Code

Mit dem Herunterladen dieser Datei akzeptierst du unsere Nutzungsbedingungen und Datenlizenz.