Microcache hidden near the confluence of T. Lumiei and T. Novarza. There's almost no satellite reception in this area, so follow the description and take the spoiler-pics with you.
From Ampezzo follow the roadsigns to Sauris. After a few switchbacks you'll find a small parking area with a sign near N 46° 26.924 E 12° 46.221
Follow the trail down into the gorge where you reach a tiny foot bridge above the here extremely narrow canyon of Torrente Lumiei. Before the road to Sauris was built in the 30ies, this bridge - then called Pedanca del Buso and made out of wood - was part of the main way between Ampezzo and Sauris. After you cross the bridge take the northern path which takes you down into the canyon of Torrente Novarza. There are some fallen trees on this part of the path but with some care you'll should reach the creekbed easily. Once in the creekbed of T. Novarza follow the creek downstream until you find a man-made tunnel on the left side of the canyon. Go through the tunnel and search for the cache on the left wall near the tunnel exit.

Don't miss the last narrow part of the canyon of T. Novarza on your way back. The eastern path near the bridge brings you to the open space above the narrow canyon of T. Lumiei. If you don't mind getting your feet wet, you can walk a few meters into the incredibly impressive canyon.
After thunderstorms or during snowmelt the cache may be unreachable or very difficult to reach.
If you have better coordinates for the cache or the bridge, please post them with your log - at our visit we were lucky to even get a single satellite.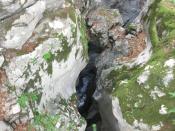 Forra del Lumiei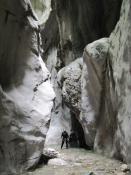 Forra del Lumiei_a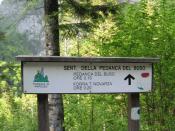 Shield at parking place Spoiler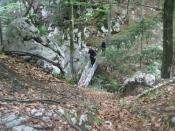 The bridge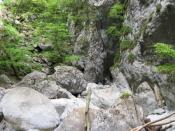 The final canyon of T. Novarza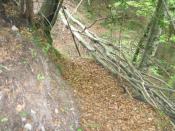 The path to T. Novarza
The Tunnel

Suche Caches im Umkreis: alle - suchbare - gleiche Cacheart



Download als Datei: GPX - LOC - KML - OV2 - OVL - TXT - QR-Code

Mit dem Herunterladen dieser Datei akzeptierst du unsere Nutzungsbedingungen und Datenlizenz.