Forra del Vinadia
A short hiking trip to the upper part of the Forra del Vinadia
von gebu

Italien > Friuli-Venezia Giulia > Udine
Achtung! Dieser Geocache ist "archiviert"! Es befindet sich kein Behälter an den angegebenen (oder zu ermittelnden) Koordinaten. Im Interesse des Ortes sollte von einer Suche unbedingt abgesehen werden!
N 46° 26.330' E 012° 57.105' (WGS84)


andere Koordinatensysteme
Größe: normal
Status: archiviert
Versteckt am: 27. April 2010
Gelistet seit: 12. April 2011
Letzte Änderung: 19. November 2012
Listing: https://opencaching.de/OCC231
Auch gelistet auf: geocaching.com

2 gefunden
0 nicht gefunden
0 Bemerkungen
0 Beobachter
0 Ignorierer
51 Aufrufe
0 Logbilder
Geokrety-Verlauf


Beschreibung
Park your car near the bus stop in the little village of Vinaio.
Now follow the road in the direction of Lauco for a few meters until you reach the start of the trail into the 'Forra del Vinadia' right behind the transformer station.

Follow the path marked by red triangles into the canyon - on some places you might need your hands but the climbing passages are never difficult. Once you pass a large rock-gate you'll reach a beautiful open space where Rio Pichions enters the canyon with a big waterfall.

The cache is hidden on the east side of the river, to the right of an old and mighty tree. You'll have to cross the creek to reach it. Satellite reception might be bad so take the spoiler pictures with you.

Enjoy that great place and don't miss the lower part of the canyon which you can reach after some fun boulder hopping.

If you are feeling really adventurous, you could go down the via ferrata through the upper part of the Vinadia-gorge (I haven't done this trip yet, so I don't know how difficult this is...)


Bilder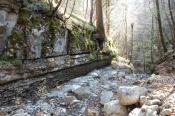 Rock formations
Rock formations in the creek Spoiler I
Spoiler II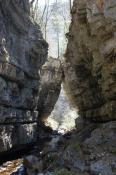 The rock-gate

Hilfreiches

Suche Caches im Umkreis: alle - suchbare - gleiche Cacheart



Download als Datei: GPX - LOC - KML - OV2 - OVL - TXT - QR-Code

Mit dem Herunterladen dieser Datei akzeptierst du unsere Nutzungsbedingungen und Datenlizenz.


Logeinträge für Forra del Vinadia

2x

0x

0x


08. Dezember 2011 Termite2712 hat den Geocache gefunden
WOW! What a great canyon!
We searched lonnger without the spoiler pics. Then we used the spoiler pic with the signs and ist was easy. In December the stones are very icy and slippery and it was not so easy to cross the creek.
Many thanks for this wonderful cache!!!!
out: TB
Termite2712 + Ingrid

16. Mai 2010 faina09 hat den Geocache gefunden

We found it at the end as firsts!! The informations about cache are perfect, even if my gps reports the place about 15m of distance, but I was so blind not to see an important hint the first time!
The canyon if really worth more than one visit, and is even more interesting going downstream... but we didn't do the full way.
In: TB Rhino to go back to Kenya
Out: TB Duck
FTF!!!


TFTC Faina09 & Lama & §Grano + LaRana + Surjan