Cachelisten
Earthcacheliste

von Landschildkroete
Gefahren


Wegpunkte

Allgemein

Saisonbedingt

Benötigt Werkzeug

Benötigt Vorarbeit


Beschreibung Deutsch · English
ENGLISH
General information
The Funtensee is a mountain / karst lake in the Steinernes Meer plateau in the Nationalpark Berchtesgaden, Bavaria, Germany located at an altitude of 1,601 m above sea level. The lake is known for record low temperatures up to 30°C (54°F) lower than the surrounding area and is therefore the coldest spot in Germany.
At an elevation of 1601 m, its surface area is about 3.5 hectares and the shoreline is about 780 meters long. At its deepest point the lake is approximately 5.30 meters deep. The average depth is beetween 2.50 to 3.00 meters. The water catchment area covers approximately 10 square kilometers and is mainly fed from tributaries such as the above-ground Stuhlgraben (from the southeast, approximately 1600 m long) and the Rennergraben comes from the west (about 900 m long). The lake has no visible surface runoff. The noise of the water disappearing underground has led to local folklore and the naming of the outflowpoint Teufelsmühle (Devil's Mill or Devil's Grinder). The exact route the water takes underground has not yet been established and an extensive cave has not been ruled out but the outflow point is not accessible to humans to investigate.
On its shore is the Kärlinger Haus mountain hut which is open for the summer season; in addition, there is a winter room available. The valley is surrounded by Viehkogel (2,158m), Glunkerer, (1,932m) and Stuhljoch (2,448m) which leads to the Funtenseetauern mountain (2,578m), named after the lake.
Earliest evidence of use of the area for grazing can be traced to ca 1604-1619. Around 1870 there is evidence of eight active Kaser (living quarters/stables) causing concerns of overgrazing. The Funtenseealm was active through 1964.
The origin of the name is unclear. Possible original meaning is Fontana (spring) or Funken (trout).
During the summer months can be observed numerous marmots.
Formation
The lake is located on the larger of the two sinkholes of the uvala. The depression is the result of ongoing progressive erosion processes over an extended period. While the corrosion (lime) formed sinkholes (funnel-or bowl-shaped valley) they were mined from one to 350 m thick glacier during the last ice age even lower. As it melted, he left behind moraines material that seals the bottom of the lake lying at the runoffs.
Temperature
Known as the coldest spot in Germany, the lake is the site where the country's record lowest temperature, -45.9°C (-50.6°F), was recorded on 24 December 2001. It is theorised that due to the unique situation of trapped cold air, a temperature of -55°C (-67°F) is possible. The extreme cold spot at the lake is said to result in a reverse tree line, as no trees can grow at any point below about 60m above the lake, although studies have found that it was the result of overgrazing animals. Temperatures are regularly monitored by a private weather station installed by Jörg Kachelmann. In the hot month of July 2006 the weather station registered at the lakeside -0.5 ° C and thus was Germany's most unique place with night frosts.
The Cache
The Funtensee is accessible via multiple Access paths and hiking trails. There are detailed descriptions in the section Anfahrt & Aufstieg zum Funtensee.
In order to log this cache, you have to answer the following questions to verify that you have actually been at the coldest place in Germany. No couch-caching!!!
Explain briefly in your own words why it just can be so cold (two major factors play a role, maybe ask the website to the lake or Aunt wiki)?!
Determine the height difference from Kärlingerhaus to the surface of the lake with your GPS device (meters)! (within this range, the temperature already can vary by several degrees)
At the south-eastern shore of the lake there is the weather station. It's part of which program? (Sign at the weather station is searched - one word - exact wording!)
In the lower right corner of the Metal box of the weather station there is a sticker. What color is it and what does it say?
Optional: How cold is the lake? (degrees celsius)
Optional: Take a picture from you or your GPS-device in front of the lake or the Kärlingerhaus (Photos are nice)!
Please send me your answers via profile. You don't have to wait for my answer so you can log immediately. If there's something wrong I'll contact you.
Unfortunately photos are no longer a prerequisite for logging an Earthcache but they're welcome!
Have fun in this unique nature and the Earthcache!
| | |
| --- | --- |
| | Parkplatz |

N 47° 35.500'
E 012° 59.400'
Kostenpflichtiger Parkplatz am Königssee. Von hier kann man mit dem Boot nach St. Bartholomä bzw. Salet fahren.

Paid parking at Lake Königssee. Crossing by boat to St. Bartholomä or Salet.

| | |
| --- | --- |
| | Parkplatz |

N 47° 36.145'
E 012° 55.460'
Kostenpflichtiger Parkplatz an der Wimbachbrücke bei Ramsau. Von hier gelangt man zum Aufstieg über das Wimbachgries (ca. 7 Std. - schwierig).

Paid parking at the Wimbachbrücke near Ramsau. Starting point of the Wimbachgries (approximately. 7hours - difficult).

| | |
| --- | --- |
| | Station oder Referenzpunkt |

N 47° 29.607'
E 012° 56.478'
Der unterirdische Abfluss an der Teufelsmühle.
The subterranean outflow of the lake.

| | |
| --- | --- |
| | Station oder Referenzpunkt |

N 47° 32.620'
E 012° 58.340'
Anfahrt mit den Elektrobooten über den Königssee nach Sankt Bartholomä. Von dort über den Wanderweg Nr. 412 über Schrainbach, Saugasse und den Oberlahner zum Funtensee.
(ca. 4 Std.)
Arrival with boats along the lake Königssee.
Funtensee via St. Bartholomä - hiking trail 412 - Schrainbach - Saugasse and Oberlahner.

| | |
| --- | --- |
| | Station oder Referenzpunkt |

N 47° 31.200'
E 012° 58.280'
Anfahrt mit der Königsseeschifffahrt bis Salet am Königssee dann über den Sagerecksteig zum Funtensee.
(ca. 5 Std. - schwieriger Anstieg)
Arrival with boats along the lake Königssee.
Funtensee via Salet - Sagerecksteig (apr. 5 hours - difficult climb)

| | |
| --- | --- |
| | Station oder Referenzpunkt |

N 47° 31.595'
E 012° 54.640'
Abzweig am Trischübel zum Kärlingerhaus.
Junction Trischübel to Kärlingerhaus.

Die zusätzlichen Wegpunkte werden bei Auswahl des Caches auf der Karte angezeigt, sind in heruntergeladenen GPX-Dateien enthalten und werden an das GPS-Gerät gesendet.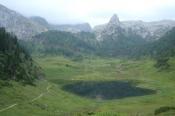 Funtensee und Schottmalhorn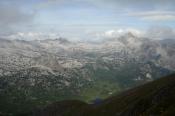 Blick auf den Funtensee

Dieser Geocache liegt vermutlich in einem Naturschutzgebiet. Bitte verhalte dich entsprechend umsichtig! (Info)
Nationalpark Berchtesgaden (Info)
Dieser Geocache liegt vermutlich in den folgenden Schutzgebieten (Info): Biosphärenreservat Berchtesgaden (Info), FFH-Gebiet Nationalpark Berchtesgaden (Info), Vogelschutzgebiet Nationalpark Berchtesgaden (Info)

Cache-Empfehlungen von Benutzern, die diesen Geocache empfohlen haben: alle


Suche Caches im Umkreis: alle - suchbare - gleiche Cacheart



Download als Datei: GPX - LOC - KML - OV2 - OVL - TXT


Mit dem Herunterladen dieser Datei akzeptierst du unsere Nutzungsbedingungen und Datenlizenz.