Attention! This Geocache is "Archived"! There is no physical container at the specified (or to be determined) coordinates. In the interest of the place it should not be necessarily to search!
N 59° 52.526' E 012° 47.936' (WGS84)


Convert coordinates
Size: small
Status: Archived
Hidden on: 28 April 2004
Listed since: 31 March 2006
Last update: 27 February 2012
Listing: https://opencaching.de/OC1A57
Also listed at: geocaching.com

2 Found
0 Not found
1 Note
1 Watcher
0 Ignorers
77 Page visits
0 Log pictures
Geokrety history


Description Deutsch (German) · Svenska
Ein guter Rastplatz in der Nähe vom Versteck.
Nehmt euch genug Zeit um diesen feinen Platz
zu nutzen. Es gibt ein Übernachtungshaus mit
Holzofen und ein Grillhaus.
Das Übernachtungshaus kannst du 1 Tag+Nacht
benutzen. Im Grillhaus kannst du dein Essen grillen

Rita & Burghardt

Additional hint

Decrypt
mjvfpura Fgrvara, uvagre Fgrvara
A|B|C|D|E|F|G|H|I|J|K|L|M
N|O|P|Q|R|S|T|U|V|W|X|Y|Z

Pictures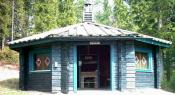 Grillhus
Cache Spoiler 1 Spoiler 2

Utilities

Search geocaches nearby: all - searchable - same type



Download as file: GPX - LOC - KML - OV2 - OVL - TXT - QR-Code

When downloading this file, you accept our terms of use and Data license.


Log entries for Ängen

2x

0x

1x


27 February 2012 mic@ wrote a note
Bitte bei Statusänderungen, die bei geocaching.com durchgeführt werden, auch immer hier den Status ändern. Analog zu GC setze ich den Status für diesen Cache jetzt auch auf "Archiviert".
mic@ (OC-Guide)

06 September 2007 Rollo found the geocache
Gefunden nach ca. 2 Stunden und 100 Mückenstichen. Tolles aber schweres versteck.