Description Deutsch · English
This rocky cove also called "poríz" by the locals and known as smugglers cove is probably one of the most spectacular places on the shores of "Isla Bonita". The small stone-cabins, built in 50m high step walls (bluff), nestle to the steep walls like white boxes, serve exclusively as pure functional buildings for fishermen and as accomodations as weekends. Nevertheless essentials like electric light, a sink, toilets and a landing stage for boats – almost a small haven – in short , everything belonging to a typical "La Palma puerto". If it's calm you can even go swimming.
Look and see!
This cache is particularly snitable for a hike. Here are some hints:
- Rother Wanderführer La Palma, die Wanderung Nr.33 "Von Tijaraffe zur ".
- KOMPASS Wanderführer 943 La Palma, die Wanderung NR.21 "Zu stillen Buchten an der Westküste".
- Michael Müller Verlag La Palma, die Wanderung Nr.9 "Barrancos, Felsküsten und ein Schmugglernest".
Of course you can choose a route by yourself (P.R. LP 12.2). There'll be no problem if you have a clearly arranged map of trails. (We used both "KOMPASS Wander-, Bike-, Freizeit- und Straßenkarte 232 La Palma M1:50000 GPS compatible" and "Rother Wanderführer" and we were very satisfied with either).
This is the description of the tour:
You can take the bus route number 5 to Tijarafe. There, about N28°42.675 W17°57.340 turn into the "Calle de Molina" going downhill to the coast. Please take care that brakes work perfectly if you drive by car. By the co-ordinates of N28°42.148 W17°57.298 there's a good aportunity to park your car. Nearby, on the route to the cache, you'll pass a WC. Move on going down to the sea. To raise the cache leave the route on the crag and follow the older path for just a few metres. The cache sits 30m above the sealevel. Please hide the micro box just as well as you found it. (You can see it on the photo: upright, slightly locked and fixed well with stones). To enjoy the beautiful and spectacular location you should move on follwing the main route down to the sea! This breath taking is probably the best of the Cache.
The distance are as follows:
While the air-line distance from Tijarafe to the cache is about 2km, the total distance covered amounts to 4-4,5km and the height differential totals to 650m. The cache can be found directly even if you follow at first a straight and then a winding road.
Please notice:
Hide the micro box just as well as you found it or rather as you see it on the photos!
Picture 1-3: On the back, upright, slightly locked and fixed well with a stone against stormy weather.
Picture 4: view from the Cache.
Picture 5: away branching
Picture 6: spoiler
frr ng gur fcbvyrecvpgherf,
rreug fcrgf erib n yynzf hnrgnyc av rab fregrz sb rug crgf.
A|B|C|D|E|F|G|H|I|J|K|L|M
N|O|P|Q|R|S|T|U|V|W|X|Y|Z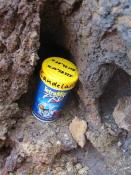 Picture 1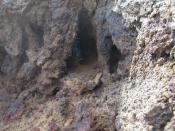 Picture 2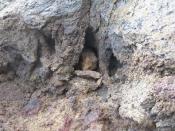 Picture 3 Picture 4
Picture 5
Picture 6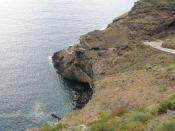 The crag - Die Felsspitze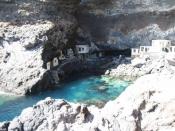 Location

Show cache recommendations from users that recommended this geocache: all


Search geocaches nearby: all - searchable - same type



Download as file: GPX - LOC - KML - OV2 - OVL - TXT - QR-Code

When downloading this file, you accept our terms of use and Data license.