Attention! This Geocache is "Archived"! There is no physical container at the specified (or to be determined) coordinates. In the interest of the place it should not be necessarily to search!
N 50° 57.600' E 010° 17.678' (WGS84)


Convert coordinates
Size: micro
Status: Archived
Time required: 1:00 h Route: 2.0 km
Hidden on: 28 October 2007
Listed since: 28 October 2007
Last update: 30 June 2016
Listing: https://opencaching.de/OC46C5
Also listed at: geocaching.com

15 Found
0 Not found
0 Notes
1 Maintenance log
2 Watchers
0 Ignorers
404 Page visits
2 Log pictures
Geokrety history


Description Deutsch (German)
Die Teufelskanzel ist eine geländergesicherte Felskanzel hoch über dem Georgental mit einer sehr schönen Aussicht über die umgebenden Berge und Wälder. Tief unten ist das Tal in Sicht.

Ein möglicher Ausgangspunkt und Parkplatz für die Cachesuche ist bei: N 50° 57.205 E 010° 18.509


Cache-Erstinhalt:
Erstfinder-Urkunde
Mehrere "Rohdiamanten"

des Weiteren - keine Tauschobjekte, bitte im Cache belassen:
1 Logbuch
1 Bleistift

Additional hint

Decrypt
Hagre qrf Grhsryf Shß. Fgngg Fcbvyre vfg Snagnfvr trsentg. Yrvpug reervpuone.
A|B|C|D|E|F|G|H|I|J|K|L|M
N|O|P|Q|R|S|T|U|V|W|X|Y|Z

Pictures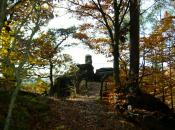 Teufelskanzel1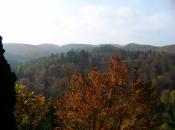 Teufelskanzel2

Utilities

This geocache is probably placed within a nature reserve! Please see here for further information.
Naturschutzgebiet Wartburg - Hohe Sonne (Info)
This geocache is probably placed within the following protected areas (Info): FFH-Gebiet Nordwestlicher Thüringer Wald (Info), Landschaftsschutzgebiet Thüringer Wald (Info), Naturpark Thüringer Wald (Info)

Search geocaches nearby: all - searchable - same type



Download as file: GPX - LOC - KML - OV2 - OVL - TXT - QR-Code

When downloading this file, you accept our terms of use and Data license.


Log entries for Teufelskanzel

15x

0x

0x

1x


[Show all log entries]