N 50° 42.881' E 007° 02.862' (WGS84)


Convert coordinates
Size: no container
Status: Available
Time required: 0:04 h Route: 0.1 km
Hidden on: 25 April 2008
Listed since: 25 April 2008
Last update: 21 June 2011
Listing: https://opencaching.de/OC58AE


27 Found
0 Not found
0 Notes
4 Watchers
1 Ignorers
635 Page visits
34 Log pictures
Geokrety history
2 Recommendations

Listing


Description Deutsch (German)
Initiativen, Schulen, Angehörige und Hinterbliebene recherchieren die Daten von Menschen, die während der Zeit des Nationalsozialismus verfolgt, deportiert und ermordet wurden. Zu den von den Nationalsozialisten während des "Dritten Reiches" verfolgten Gruppen gehörten Juden, Sinti und Roma, politisch Andersdenkende, Homosexuelle, Zeugen Jehovas und Euthanasieopfer. Eine Recherche-Hilfe stellt die Datenbank der Gedenkstätte Yad Vashem in Jerusalem dar.

Liegen die Daten vor, fertigt Demnig einen Betonwürfel mit 10 Zentimeter Kantenlänge, die mit einer Messingplatte abschließt. Diese versieht er in der Regel mit dem Schriftzug Hier wohnte (in Zittau auch: Hier lebte, in Frankfurt (Oder) auch: Hier wirkte), dem Namen, Geburtsjahr und dem Schicksal des Menschen, meist das Datum der Deportation oder des Todes. Den Stein lässt er jeweils bündig in den Bürgersteig oder die Straße direkt vor der Haustür zur letzten Wohnung des Opfers ein.

Um diesen Cache zu loggen, erfülle folgende Aufgabe:

1. Finde einen Stolperstein im Bonner Stadtgebiet, der noch nicht geloggt wurde.

2. Mache ein lesbares Foto von dem Stein und deinem GPS.

3. Logge zusammen mit dem Foto und schreib die Koordinaten in dein Log!

Hinweis: Wurde ein Stolperstein geloggt, so kann er und alle Stolpersteine in einem Umkreis von 5 Meter um ihn herum nicht mehr geloggt werden!



Pictures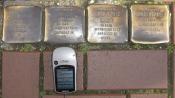 Samuel, Eva, Wilhelmine und Alfrad Israel; Bonn Duisdorf - Rochusstr.

Utilities

Show cache recommendations from users that recommended this geocache: all


Search geocaches nearby: all - searchable - same type



Download as file: GPX - LOC - KML - OV2 - OVL - TXT - QR-Code

When downloading this file, you accept our terms of use and Data license.


Log entries for Bonner Stolpersteine

27x

0x

0x



29 February 2020, 13:45 prussel found the geocache
Beim Besuch in Bonn sind wir über die Gedenksteine für Siegmund und Minna Apfel vor dem Haus Budapester Straße 19 gestolpert.
Koordinaten: N50° 44.166 E7° 05.666
TFTC und Gruß aus Frankfurt am Main
Jutta & Michael
Pictures for this log entry:
Stolpersteine Siegmund und Minna Apfel

Budapester Straße 19


15 November 2017, 07:56 Bambina2 found the geocache
N 50°43.963
E 007°05.922

Die Stolpersteine sind in der Gangolfstr.  Eingang  Volksbank

Hier wohnte  Leopold  und Marta Arensberg  und Adele Kussel  geb. Arensberg



Foto steht Kopf bekomme es leider nicht gedreht :D
Pictures for this log entry:
Stolpersteine


last modified on 27 November 2017

30 September 2015 Waldmeerschweinchen found the geocache
In der Argelanderstraße 135 in der Bonner Südstadt
bei N 50 43.351 E 007 05.929
wohnte JACOB ROLF.
Pictures for this log entry:
Stolperstein Jacob Rolf in der Argelanderstraße


03 September 2014 RD07a found the geocache
Na dann ergänzen wir die Bonner Stolpersteine doch um einen in Beuel.
In der Neustr. 24 wohnte früher Bertha Cahn, geb. Forst, die im Rahmen der Kriegswirren 1942 deportiert wurde und schließlich in Treblinka verstarb.
Der zugehörige Stolperstein findet sich bei den folgenden Koordinaten: N 50 44.301 E 007 07.488
Danke für diesen Cache, der aus meiner Sicht ein wichtiges Thema addressiert.
In der Cache-Beschreibung könnte man evtl. noch einen Link auf die offiziellen Projektseiten ergänzen:
Viel Grüße
   RD07a
Pictures for this log entry:
Stolperstein Bertha Cahn in Bonn-Beuel


22 July 2014, 20:35 König Moderig found the geocache
Familie Sajonz, bei: N 50 44.367 E 007 5.692

TFTC,
König Moderig
Pictures for this log entry:
Stolpersteine Sajonz


[Show all log entries]