Descripción Deutsch · English (Inglés)
Parking is available at
N50 13.610 E8 13.578

und

N50 14.908 E8 14.098
Piggeldy and Frederick get separated in the woods. They were on thier way to visit thier friend the Sandmännchen. Each one of them could remember only one part of the coordinates where the Sandmännchen is living. So visit Piggeldy (OC0027) and his brother Frederick (OC0028) to find thier friend the Sandmännchen (OC0029).
Piggeldy can also be found during the night (reflector). Beware for the fences!

EPE was +/-20m when hiding the cache so prepare for a littel search.
Because of the location I do not recommand to do this cache during night!
Climbing gear is not nessesary to reach the cache.

Ayuda adicional

Descripción
haqre n yrqtr haqre n fgbar
A|B|C|D|E|F|G|H|I|J|K|L|M
N|O|P|Q|R|S|T|U|V|W|X|Y|Z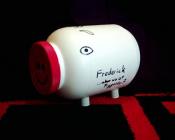 Frederick
Blick vom Cache / View from cache
Este geocache está probablemente en las siguientes áreas protegidas (Info): Naturpark Rhein-Taunus (Información)

Mostrar recomendaciones de los usuarios que recomiendan este geocaché: all


Buscar geocaches en las inmediaciones: todo - búsqueda - mismo tipo



Descargar como archivo: GPX - LOC - KML - OV2 - OVL - TXT - QR-Code

Al descargar este archivo, aceptas nuestros terminos de uso y Licencia de Datos.