N 51° 09.793' E 008° 54.525' (WGS84)


Convert coordinates
Size: normal
Status: Available
Time required: 1:00 h Route: 3.0 km
Hidden on: 22 May 2005
Listed since: 31 August 2005
Last update: 06 September 2015
Listing: https://opencaching.de/OC00CE
Also listed at: geocaching.com

29 Found
0 Not found
1 Note
1 Maintenance log
1 Watcher
0 Ignorers
166 Page visits
8 Log pictures
Geokrety history
2 Recommendations


Description Deutsch · English
One also calls him the "Loreley of the Eder valley", the steep rock which stands between Schmittlotheim and church plumb line home about one hundred and thirty meters over the Eder. Because of his marvelous valley look he is a popular destination of the outing with natives and guests. Steep rock faces about 125 meters highly get off the Eder valley between Schmittlotheim and church plumb line home to the popular destination of the outing up grove stone. The hiker from Schmittlotheim or church plumb line home reaches the ,, Loreley of the Eder valley " in half an hour on woodland paths rising gently. In the past, the park-like place was framed and protected by a sprucewood hedge to to the steep slope. Benches invite to resting. At first the hiker will enjoy the marvelous valley look. The motor traffic rinses depression under him off past on the federal road 252 on the railway route Marburg -- Warburg rolled the steam engine trains earlier. On the Eder canoeists paddle to, the Eder lake which starts at the iron measuring bridge under the grove stone. The roofs of Schmittlotheim shine in the counter-light in the west and one quite far espies the tower of St. Mary's Church of Frankenberg at the horizon. Ederabwärts church plumb line home is located in the full sun, the court "gold field" greets over here and one hears the hurly-burly of the camping site Herzhausen.
Rest see: http://www.hessennet.de/voehl/Gemeindeportrait/Sehensw % FCrdigkeiten/frame Hagenstein.htm .


Pictures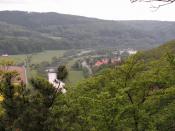 Blick Richtung NW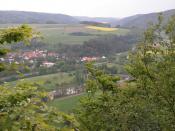 Blick Richtung SW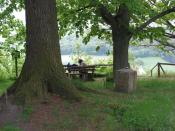 Hagenstein

Utilities

This geocache is probably placed within a nature reserve! Please see here for further information.
Naturschutzgebiet Hagenstein (Info), Nationalpark Kellerwald-Edersee (Info)
This geocache is probably placed within the following protected areas (Info): FFH-Gebiet Kellerwald (Info), Landschaftsschutzgebiet Waldschutzgebiet Gatter Edersee (Info), Naturpark Kellerwald-Edersee (Info)

Show cache recommendations from users that recommended this geocache: all


Search geocaches nearby: all - searchable - same type



Download as file: GPX - LOC - KML - OV2 - OVL - TXT - QR-Code

When downloading this file, you accept our terms of use and Data license.


Log entries for Urwaldsteig - Hagenstein

29x

0x

1x

1x


29 September 2018 skrell found the geocache
Hier heute einen schönen Spaziergang gehabt und dabei die tolle Aussicht genossen.
DFDC sagt SKRELL


12 October 2017, 18:00 bcheck found the geocache
Heute mit einer kleinen Mountainbiketour verbunden und auch fast auf Anhieb gefunden. Leider ist der Zustand mieserabel. Das Logbuch ist voll und auch nass. Die Dose defekt. Bitte mal dringend erneuern. Dafür hat allerdings die Aussicht entschädigt. Herrlicher Ort da oben. Gruß...

07 August 2017 Superpeter found the geocache
Auf einer kleinen Laufrunde vom Campingplatz schnell gefunden

17 July 2017 remburn found the geocache
Vielen Dank für den Cache. Nicht nur dass, der Blick von hier sehr schön ist, sondern er hat auch dafür gesorgt, die Motivation unseres Junior-Cachers hoch zu halten. DFDC

[Show all log entries]