Descripción Deutsch (Alemán)
Ein Cache der Wasserhaus-Serie.
Hier hat man einen schönen Blick auf Frankenberg und Umgebung.
Die Rückseite vom Logbuch kann auch beschrieben werden!
Parken auf keinenfalls beim Schützenverein! Bei der Kaserne gibt es genügend Parkplätze.
Cache ist auch bei Opencaching.de gelistet!
Keine Logaufkleber, please no stickers!!!
-------------------------------------
A cache of the water house series.
One has a beautiful view of Frankenberg and surroundings here.

Ayuda adicional

Descripción
Yvaxremnhacsnuy
Yrsg srapvat cbfg
A|B|C|D|E|F|G|H|I|J|K|L|M
N|O|P|Q|R|S|T|U|V|W|X|Y|Z
Blick Richtung Frankenberg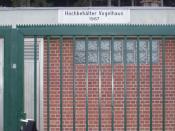 Hochbehälter Vogelhaus

Buscar geocaches en las inmediaciones: todo - búsqueda - mismo tipo



Descargar como archivo: GPX - LOC - KML - OV2 - OVL - TXT - QR-Code

Al descargar este archivo, aceptas nuestros terminos de uso y Licencia de Datos.