Attention! This Geocache is "Archived"! There is no physical container at the specified (or to be determined) coordinates. In the interest of the place it should not be necessarily to search!
N 49° 06.214' E 007° 31.642' (WGS84)


Convert coordinates
Size: normal
Status: Archived
Hidden on: 07 April 2005
Listed since: 08 September 2005
Last update: 24 June 2011
Listing: https://opencaching.de/OC010F
Also listed at: geocaching.com

8 Found
0 Not found
1 Note
0 Watchers
0 Ignorers
134 Page visits
0 Log pictures
Geokrety history
1 Recommendations


Description Deutsch · English
English description
This not very difficult but nice hike will guide you to a rock face wherein the Romans chiselled a relief long time ago. There you can see -unfortunately very weathered- Diana, the goddess of hunt with bow, arrow and quiver together with Herkules and Mars, god of war.
Park at N 49° 06.432 E 007° 33.625. You should calculate about two hours to reach the cache and go back to car (no roundway). As direction sign first locate N 49° 06.505 E 007° 33.032 then N 49° 06.273 E 007° 32.415. There you'll reach an elongated rock ("Altschlossfelsen") which should be taken to it left. After passing the entired rock massif you'll hit the French/German borderline soon. Follow it -maybe with a foot on French and the other on German territory- towards the cache-coordinate. If you've reached the cache you've passed the Diana image a few meters. On the back way try the other side of the "Altschlossfelsen".
Happy Hunting

Pictures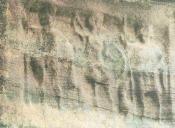 Dianabild

Utilities

Show cache recommendations from users that recommended this geocache: all


Search geocaches nearby: all - searchable - same type



Download as file: GPX - LOC - KML - OV2 - OVL - TXT - QR-Code

When downloading this file, you accept our terms of use and Data license.


Log entries for Dianabild

8x

0x

1x


27 April 2008 AndreIsaPaul found the geocache
Schön, dass wir doch noch loggen können. Schade, dass er wirklich weg ist. Es war für uns trotzdem ein toller Tag nahe der französischen Grenze.
Vielen Dank!

05 January 2008 Rumplstielzchen found the geocache
Bei bäbeswetter meinen ersten Auslandscache gehoben:)

Geniale Lokation!

Danke für die trotz des miesen Wetters schöne Tour

Rumplstielzchen

in: TB Osjebeesje
out: Eisbär

10 September 2007 sissi+trixi found the geocache
Sehrschöner Weg zum Cache. Unser 3. Cache in der Pfalz. Das Versteck ist nicht unbedingt glücklich gewählt. Es ist kaum erreichbar, ohne Spuren zu hinterlassen. Viele Grüße von
Sissi mit Team aus Bayern.


10 August 2007 s.w-z found the geocache
Für das Dianabild und die Dianabild-Letterbox haben wir heute sage und schreibe alles in allem 6 Stunden gebraucht. Das GPS-Gerät hat sich im Regen, Nebel und Wald als fast unbrauchbar herausgestellt und die Cachebeschreibung war für uns als unerfahrene Wanderer ohne Karte zu vage. Wege, die auf den ersten Blick in die richtige Richtung führten, stellten sich dann doch als falsch heraus und auch am letztendlich richtigen Weg ließ uns das GPS wiederum zweifeln. Aber durch Beharrlichkeit und Ausdauer kamen wir doch noch zum Ziel und konnten die Box nach 3,5 Std. aus ihrem dornigen Versteck bergen. TFTC s.w-z no trade

11 February 2006 Rupp1515 found the geocache
Auf den Weg zur Letterbox gefunden.
Mit dem Spoilerfoto war es kein Problem, nur der Schnee hat die Suche etwas rutschiger gestaltet.
Danke und Grüße von
Renate und Chris

[Show all log entries]