Attention! This Geocache is "Archived"! There is no physical container at the specified (or to be determined) coordinates. In the interest of the place it should not be necessarily to search!
N 49° 16.592' E 008° 02.316' (WGS84)


Convert coordinates
Size: normal
Status: Archived
Hidden on: 10 April 2005
Listed since: 09 September 2005
Last update: 20 June 2011
Listing: https://opencaching.de/OC0114
Also listed at: geocaching.com

6 Found
0 Not found
0 Notes
1 Watcher
1 Ignorers
144 Page visits
3 Log pictures
Geokrety history


Description Deutsch · English
English translation: The "Frankenburg" (castle) - the remains of it respectively should be fairly unknown. Topographical map of the area only shows it as a rock ("Franken-Felsen"). Historians act on assumption that the fortress has been destroyed in the 14. century. The hike isn't too long but a little heavy - because steep.Please be careful with kids at the top of the rock ! Btw. nearby the cache hiding-place also a letter-box is hidden. Park you car at N 49° 16.262 E 008° 02.632. Happy hunting

Pictures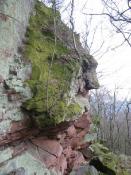 Frankenburg
Spoiler !

Utilities
This geocache is probably placed within the following protected areas (Info): Biosphärenreservat Pfälzerwald (Info), Naturpark Pfälzerwald (Info)

Search geocaches nearby: all - searchable - same type



Download as file: GPX - LOC - KML - OV2 - OVL - TXT - QR-Code

When downloading this file, you accept our terms of use and Data license.


Log entries for Franken-Felsen

6x

0x

0x


[Show all log entries]