Annelieses alter Ofen
Hier stehen die interessanten Reste eines alten Kalkofens.
by Diefinder

Germany > Nordrhein-Westfalen > Soest
Attention! This Geocache is "Archived"! There is no physical container at the specified (or to be determined) coordinates. In the interest of the place it should not be necessarily to search!
N 51° 36.855' E 008° 30.850' (WGS84)


Convert coordinates
Size: normal
Status: Archived
Time required: 0:30 h Route: 0.5 km
Hidden on: 15 December 2003
Listed since: 01 October 2005
Last update: 29 June 2017
Listing: https://opencaching.de/OC01BC
Also listed at: geocaching.com

79 Found
0 Not found
3 Notes
1 Maintenance log
1 Watcher
1 Ignorers
287 Page visits
3 Log pictures
Geokrety history
1 Recommendations

Dangers


Infrastructure

Route

Waypoints

Time

Seasonal



Description Deutsch (German)
In der Nähe von Geseke stehen etwas Abseits einer Ausfallstr. in einem nur teilweise zugänglichen grossen Brach - und Naturschutzgelände ein- bzw. zwei seltsame Bauwerke. Nachdem ich mir die Industriedenkmale näher angesehen hatte, war die Entscheidung einfach. Hier muss ein Cache hin. Da für solche Gelegenheiten immer eine Box im Auto ist, wurde die Idee sofort in die Tat umgesetzt.

Was dort nun ganz genau steht kann ich nicht sagen, aber ich bin sicher, dass wir nicht lange warten müssen, bis wir mehr Informationen darüber im Log haben. Um die Neugierde zu erhöhen, habe ich bewusst auf Fotos verzichtet.

Man kann bis auf die letzten 10 m aus verschiedenen Richtungen an das Bauwerk heran. Das hängt ganz davon ab ob man zu Fuss, mit dem Rad oder Kinderwagen unterwegs ist. Das Bauwerk ist eingezäunt und Verbotschild steht davor. Der Zaun ist aber an einigen Stellen schon herunter getreten.

Die Koordinaten sind vom Cache. Er ist in der Nähe des Bauwerkes, ausserhalb des Zaunes, zwischen zwei eng beieinander stehenden Bäumen unter/zwischen Steinen.

Allgemeiner Hinweis.
Wir freuen uns, dass seit dem 11.12.2005 die UlRai's die Patenschaft für diesen Cache übernommen haben und danken ihnen.

Pictures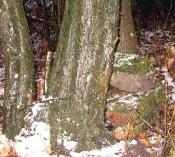 Da ist er, nur die Steine sehen jetzt ander aus.

Utilities

This geocache is probably placed within a nature reserve! Please see here for further information.
Naturschutzgebiet NSG Steinbrueche-Auf der Hoehe (Info)

Show cache recommendations from users that recommended this geocache: all


Search geocaches nearby: all - searchable - same type



Download as file: GPX - LOC - KML - OV2 - OVL - TXT - QR-Code

When downloading this file, you accept our terms of use and Data license.


Log entries for Annelieses alter Ofen

79x

0x

3x

1x


[Show all log entries]