Lupburg
A simple traditional at an historic location
by wallace&gromit

Germany > Bayern > Neumarkt i. d. OPf.
Attention! This Geocache is "Archived"! There is no physical container at the specified (or to be determined) coordinates. In the interest of the place it should not be necessarily to search!
N 49° 09.378' E 011° 45.354' (WGS84)


Convert coordinates
Size: micro
Status: Archived
Hidden on: 07 May 2005
Listed since: 20 October 2005
Last update: 23 July 2011
Listing: https://opencaching.de/OC0397
Also listed at: geocaching.com

16 Found
1 Not found
1 Note
3 Watchers
0 Ignorers
31 Page visits
0 Log pictures
Geokrety history


Description Deutsch · English
The Cache is placed in the castle ruin Lupburg.
Park your car at the church: N49°09.358 E11°45.407
Be careful at the cachelocation!
Please leave logbook and pencil in the cache, thank you!

Pictures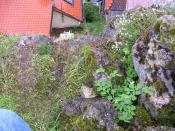 Dscf6176.jpg

Utilities

Search geocaches nearby: all - searchable - same type



Download as file: GPX - LOC - KML - OV2 - OVL - TXT - QR-Code

When downloading this file, you accept our terms of use and Data license.


Log entries for Lupburg

16x

1x

1x


15 September 2010 Schrottie wrote a note
Dieser Cache ist auf geocaching.com archiviert und hier nicht mit dem Attribut "OC only" versehen. Das letzte Funddatum liegt lange zurück und die Logs bei geocaching.com lassen darauf schließen, das der Cache nicht mehr existiert. Aus diesem Grunde archiviere ich ihn auch hier. Sollten sich später neue Aspekte ergeben und der Cache wieder aktiviert werden, so kann dies durch den Owner selbstständig über die Funktion "Cache bearbeiten" erfolgen.
Schrottie (OC-Admin)


21 May 2008 zinker1967 did not find the geoacache
Cache wurde weder von meiner Partnerin noch von mir gefunden! Wie sich herausstellte, wurde der Cache von anderen Cachern unvorsichtig behandelt und somit in eine Position gebracht, wo man jetzt eine richtige Kletter (Bergsteiger) Ausrüstung benötigt um an den Cache zu kommen!

27 October 2007 Team Heinzi found the geocache
Die Burg ist toll und den Cache haben wir auch gefunden! :)

12 October 2007 carnicl found the geocache
Nachdem wir mit dem Wolfstein schon Burgerfahrung haben, bot sich dieser Cache ja richtig an!
Wir (carnicl und Bettina) haben ihn dann ja auch sofort gefunden!
Viele Grüße,
carnicl und Bettina

16 September 2007 rotesT-Shirt found the geocache
Ich war schon oft in Lupburg aber noch nie auf der Burg und bin froh dass jetzt mal gesehen zu haben!

[Show all log entries]