Skulpturenweg
Find the treasure of the three strangers at the end of the legendary sculpture trail.
by johnsmith42

Germany > Mecklenburg-Vorpommern > Güstrow
Attention! This Geocache is "Archived"! There is no physical container at the specified (or to be determined) coordinates. In the interest of the place it should not be necessarily to search!
N 53° 41.954' E 012° 31.236' (WGS84)


Convert coordinates
Size: normal
Status: Archived
Time required: 2:00 h Route: 2.0 km
Hidden on: 18 September 2005
Listed since: 07 November 2005
Last update: 21 July 2019
Listing: https://opencaching.de/OC08F0
Also listed at: geocaching.com

16 Found
3 Not found
1 Note
1 Maintenance log
4 Watchers
0 Ignorers
425 Page visits
0 Log pictures
Geokrety history
3 Recommendations


Cache lists
Caches in english

by Le Dompteur

Description Deutsch · English
Once upon a time, in the heart of Mecklenburg, between the seven hills, near the castle of earl Hans von Schlitz-Goertz three strangers, which were on their way to vote for the new sovereign, took a rest and enjoyed the view over the beautiful landscape. They carried valuable things with themselves and the muggle were already hard on their heels. At that time it occurred to one of the travellers to hide a part of their property at the resting place. Thus they did and the remaining way could be mastered in good spirits. Today legendary sculptures point the way of the three strangers to you. Follow their traces and find the treasure! The magic stelas At N53°41,954 E012°31,236 is a certain amount of magic stelas, which in those days should confuse the muggle and offer protection to the three strangers. At this point your way starts. Please park your cart here and manage the trail on foot, as the three strangers did. The dragon breeding on it's egg in the nearby pond could feel disturbed! The (mistaken) signpost At N53°41,725 E012°31, (amount of that stelas * 88) there is a signpost, which was supposed to lure the three strangers into the wrong direction. Be bold and do not let yourself get confused. How many kilometres would the strangers have been run into the wrong direction? The burning tree Only the trunk remained of the once burning tree. The tree became inflamed by the fire-breathing dragon: the three travellers could escape the dragon only by a hair's breadth. The remaining trunk is at N53°41,866 E012°31, (number or kilometres). The charred trunk of the tree is only held together by iron brackets. Count the number of brackets on each of the four sides. They will show you the way to the treasure. The treasure of the sculpture trail Standing at the burning tree the treasure is located (number of the brackets) - 18 m into direction of (number of the brackets) -36 degrees.

Additional hint

Decrypt
A|B|C|D|E|F|G|H|I|J|K|L|M
N|O|P|Q|R|S|T|U|V|W|X|Y|Z

Pictures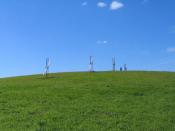 magische Stehlen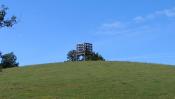 Drachennest

Utilities
This geocache is probably placed within the following protected areas (Info): Landschaftsschutzgebiet Mecklenburgische Schweiz und Kummerower See (Güstrow) (Info), Naturpark Mecklenburgische Schweiz und Kummerower See (Info), Vogelschutzgebiet Mecklenburgische Schweiz, Recknitz- und Trebeltal (Info)

Show cache recommendations from users that recommended this geocache: all


Search geocaches nearby: all - searchable - same type



Download as file: GPX - LOC - KML - OV2 - OVL - TXT - QR-Code

When downloading this file, you accept our terms of use and Data license.


Log entries for Skulpturenweg

16x

3x

1x

1x



21 July 2019 mic@ has archived the cache
Bitte bei Statusänderungen, die auf geocaching.com durchgeführt werden, auch immer hier den Status ändern.
Dieser Cache ist auf geocaching.com (GCQKRW) archiviert und hier nicht mit dem Attribut "OC only" versehen. Das letzte Funddatum liegt lange zurück und das Ownerlog auf geocaching.com läßt darauf schließen, dass der Cache nicht mehr existiert. Aus diesem Grunde archiviere ich ihn auch hier. Sollten sich später neue Aspekte ergeben, so kann dieses Listing durch den Owner selbständig über ein "kann gesucht werden"-Log reaktiviert werden.
Bei Unklarheiten oder Fragen kannst du gerne mich oder das Team kontaktieren.
mic@ (OC-Support)

24 August 2018, 09:46 webber2k6 found the geocache
Hier standen ein paar Skulpturen wohl nicht mehr am richtigen Platz. Eine haben wir sogar gar nicht gefunden. Durch ein bisschen PR, haben wir uns aber doch zum Finale gefunden. Bitte die Stationen bei Gelegenheit Mal überprüfen.
Vielen Dank für's Herführen!

08 April 2017, 22:37 URS59 found the geocache
Die Skulpturen wurden teilweise schon zu Hause angeguckt und das richtige Ergebnis war dann schnell ermittelt. Den gesamten Skulpturenweg werden wir im Rahmen des Multis "Salut der Meckl.Schweiz" besuchen.
Heute ging es zum brennenden Baum und von dort zur gepeilten Position.
Da hier der letzte Fund im Dezember 2015 war und die Owner auch nicht mehr aktiv sind, hatte ich eine Ersatzdose vorbereitet. Nachdem auch wir nicht fündig werden konnten, wurde dann diese Dose platziert und hier kann es weiter gehen.
TFTC

P.S. 10.04.2017 - Wie ich jetzt sehe, wurde diese Dose auch von unserem Nachfolger gefunden - also war unsere Peilung richtig .

14 August 2013 BiRaM found the geocache
#1953 Schöner Weg, interessante Objekte. schnell gefunden. TB abgelegt, no trade. TNX4$

12 July 2013 setra213 did not find the geoacache
Cache nicht gefunden. Zu viele tote Bäume und Mücken am Final. Alles abgesucht rund um den Gedenkstein. Schade!

[Show all log entries]