Attention! This Geocache is "Archived"! There is no physical container at the specified (or to be determined) coordinates. In the interest of the place it should not be necessarily to search!
N 47° 43.629' E 008° 55.289' (WGS84)


Convert coordinates
Size: normal
Status: Archived
Time required: 1:00 h Route: 1.5 km
Hidden on: 12 March 2005
Listed since: 18 November 2005
Last update: 27 July 2011
Listing: https://opencaching.de/OC0D17
Also listed at: geocaching.com

3 Found
0 Not found
0 Notes
1 Watcher
0 Ignorers
8 Page visits
0 Log pictures
Geokrety history


Description Deutsch (German)
Brain Damage Teil II

Auf den Spuren des Bibers.
Beim Versuch dem Lauf der Aach zu folgen kann man öfters die blanken Bißspuren von Bibern an den ufernahen Bäumen und Sträuchern entdecken.
Der fleissige Biber hat allerdings wieder vergessen wo genau er an der Aach beim letzten Inspizieren der Bäume eine seltsam nach Mensch riechende Box mit Inhalt entdeckt hatte. Da die Box nicht sehr bißfest war hatte er auch kein weiteres Interesse daran und wollte mit den Menschen auch keine Bekanntschaft machen und ist sofort wieder auf Tauchstation gegangen.
Der Baum war von der Aachbrücke Moos (WP1) 1051 Meter entfernt, von der Aachbrücke Rickelshausen (WP2) waren es 415 Meter und von WP3 waren es 235 Meter.
Welchen Baum hatte der Biber inspiziert?

Viel Spaß beim Knabbern.

WP1: N47°43.631 E008°55.289
WP2: N47°44.409 E008°55.475
WP3: N47°44.158 E008°55.563

Ach ja das hätte ich fast vergessen...Biber können nicht lesen ;-)))

Pictures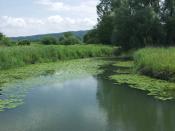 Biber's Rosengarten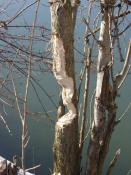 Mahlzeit!

Utilities
This geocache is probably placed within the following protected areas (Info): FFH-Gebiet Mettnau und Radolfzeller Aach unterhalb Singen (Info)

Search geocaches nearby: all - searchable - same type



Download as file: GPX - LOC - KML - OV2 - OVL - TXT - QR-Code

When downloading this file, you accept our terms of use and Data license.


Log entries for Brain Damage Teil2

3x

0x

0x


15 April 2005 etrossi found the geocache
Na das war ja eine Wanderung! So falsch waren wir selten, und doch so nahe.
Eine tolle Gegend bei super Wetter:
Was will man mehr?

Erika und Thomas
(etRossi)

no trade

10 April 2005 Team BMW-Biker found the geocache
Noch mehr Brain Damage am heutigen Tag.
Wir haben uns für den digitalen Zirkel entschieden, was uns lt. GPS fast Metergenau ans Ziel führte.
Nach nicht allzuweiter Strecke per Pedes von "Brain Damage" zu Teil2 war das Versteck schnell gefunden.
Biber haben wir zwar keine gesehen, aber dafür viele Angler, denen wir aus diversen Gründen lieber nicht begegnen wollten.

Danke an KajakFun für das Verstecken

In: Sofftier Elch
Out: CD-Hülle mit Fröschen

Team BMW-Biker Jupp, Sigrid und Sarah


19 March 2005 FriCa found the geocache

Bei herrlichem Frühlingswetter sind wir auf die Suche gegangen und haben das Versteck ohne Umwege gefunden. Da haben wir sogar noch den dritten Platz ergattert. GBU scheint wohl tief im Osterstreß zu stecken.[;)] Bei der Lösung des Rätsels haben wir uns auf die Technik verlassen. Die Streichholzmethode erschien uns dann doch als zu ungenau.[:)] Vielen Dank an KajakFun für den tollen Cache.

In: TB Toosje
Out: Magnet

Gruß

FriCa + Happy