Geocaching agent Anna Moore meets the Romans...
Permissions
Special
Equipment
Conditions and
Recommendations
Hazards
Facilities and
Conveniences
Created by the Geocaching Icons Generator.
Near the modern city of Anamur, there is the ancient predecessor Anamurium. Built by the Romans on even older remains, these picturesque ruins are an insider's tip: The town was evacuated at around 400 A.D. after some earth quakes and largely un-disturbed ever since! There is still plenty to see: A huge "fitness area" with gyms and baths, even with ancient mosaics still in place, an Odeon/Theater where you can still go backstage, a public bath, in full two-storey shape complete with roofs, remains of two churches... And not to forget the nekropolis (village for the dead) with hundreds of grave buildings.
Cape Anamur lighthouse seen through the wall of the old Roman fortress above Anamurium

Everything is open for exploration, and only a few people find their way here. You can really walk in Indiana Jones' foot steps...
Although you can hike into the area via the beach for free, we recommend to gain access by car through the official entrance. The fee (2,-YTL ~ 2,-US$ ~ 1.5€ for an adult in 2005) is rather negligible, and helps to keep the ruins in their current shape. Don't forget to bring your swimming and snorkeling equipment because there is a splendid pebble beach at the old port of Anamurium. And you get to snorkel between ancient pilars and old walls which are nowadays under water... But always remember, either on land or in water: It is a
capital offense and punished heavily when historic artefacts are taken from the place
! Be warned! The Turkish authorities take this really seriously.
To get to the cache, find the small trail towards the lighthouse, which marks the most southern tip of Turkey's coast, the famous Cape Anamur. The cache is located somewhere along the trail.
Please trade fair: Trade up, trade even, or don't trade.
This cache is maintained by Mustafa Sagin and family, and consists of a large plastic container. Please make sure that you are not seen by anyone when you retrieve the cache and that it is re-hidden well again!
Gbjneqf gur yvtugubhfr, jurer gur gjb jngre cvcrf zrrg sbe gur svefg gvzr, yrsg bs gur genvy oruvaq fbzr ohfurf ng n ebpx.


A|B|C|D|E|F|G|H|I|J|K|L|M
N|O|P|Q|R|S|T|U|V|W|X|Y|Z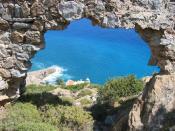 View onto Cape Anamur Lighthouse SPOILER - Anna Moore meets the Romans

Search geocaches nearby: all - searchable - same type



Download as file: GPX - LOC - KML - OV2 - OVL - TXT - QR-Code

When downloading this file, you accept our terms of use and Data license.