Attention! This Geocache is "Archived"! There is no physical container at the specified (or to be determined) coordinates. In the interest of the place it should not be necessarily to search!
N 48° 01.420' E 008° 40.268' (WGS84)


Convert coordinates
Size: normal
Status: Archived
Time required: 1:00 h Route: 1.0 km
Hidden on: 23 August 2003
Listed since: 14 August 2005
Last update: 11 August 2013
Listing: https://opencaching.de/OC0ED3
Also listed at: geocaching.com

33 Found
2 Not found
5 Notes
1 Maintenance log
1 Watcher
1 Ignorers
304 Page visits
2 Log pictures
Geokrety history


Description Deutsch · English
You can reach the parking-place N 48°01.502 E 008°40.004 over an asphalted road from Talheim. From there you must go by foot to the cache.
The cache (approx size 15x10x5cm) is hidden inside an observation tower at 998 meter above sea-level.

Have fun and good luck,
Team BMW-Biker

We translated only the needed informations to find the cache. If we make some mistaces by translation or you need more informations translated - please contact us.

Additional hint

Decrypt
A|B|C|D|E|F|G|H|I|J|K|L|M
N|O|P|Q|R|S|T|U|V|W|X|Y|Z

Pictures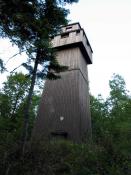 Aussichtsturm Lupfen

Utilities
This geocache is probably placed within the following protected areas (Info): Landschaftsschutzgebiet Lupfen (Info)

Search geocaches nearby: all - searchable - same type



Download as file: GPX - LOC - KML - OV2 - OVL - TXT - QR-Code

When downloading this file, you accept our terms of use and Data license.


Log entries for Lupfen

33x

2x

5x

1x


[Show all log entries]