Beschreibung Deutsch · English
This cache is accessible by bike and by foot. No admittance for motorized traffic. The terrain is flat, strollers can be taken along, but it is gravel. The hiding place is easy to reach and easy to see from the path, so hide it well again. Nearby there is some sort of adventure-playground, but this was occupied, so I couldn't look for a hiding place there.

The Cache can be found at the coordinates N = 48° 18.ABC and E = 16° 26,DEF.
2016: The cache had to move (3.5m) due to ant-infestation, coordinates and riddle remain unchanged. Check the new hint! The Cache is attached to a string.

In order to locate the cache you have to answer the following questions about the daily live of some cachers: Each one of the 6 cachers lives (and hides caches) in a certain town. Each one of them prefers a certain cache-type (wellknown from GC's listings). Each one of them uses a typical kind of container, varying in size from 0,125-litre-Micro up to 4-litre-bucket. And each of them has hidden a different number of caches. The first letters of each Name will yield A to F, the number of hidden Caches will yield the corresponding coordinate.
The form-sheet will help when answering the questions. A map of Austria can also be useful.
Any resemblance to living persons and hidden boxes is merely coincindential and completely unintentional.
And now on to the questions:
Albert lives further to the north than Carla, who liver further to the east than Emma. Franz lives neither in the easternmost nor in the westernmost town. Bertram lives further to the south than David.
David and Bertram like neither Traditionals nor Multis, Carla doesn't like Mysteries.
An Offset-Cache is twize as big than a cach in Bregenz. CITO-Containers are bigger than Event-Containers.
In Voitsberg the cache-hiding person is not a woman, in Zeltweg it is not a man.
Franz has hidden less caches than Bertram, Emma has hidden more caches than Bertram.
Carla has hidden 5 caches more than can be found in Bregenz.
A cache in Lienz is larger than a Mystery-Cache, which does not use the smallest available container-size. A CITO-container is larger than a cache in Lienz.
Neither the smallest nor the largest containers are used by women. Carla uses containers that are 4 times as large as those that are used by Franz.
The organisator of Event-caches, who detests container-sizes below 1 litre, lives neither in the northernmost nor in the westernmost town. The number of event-caches is neither the smallest nor the largest.
Immediately south of the town where 7 caches are hidden there are more than 1 2-litre-containers. The town with 7 caches lies further to the north than the town where 4-litre-buckets (=Eimer) are hidden.
The number of traditionals is odd, while the number of mysteries is even. Mysteries are more abundant than traditionals.
In one of the three northernmost town exactly 2 caches are hidden. An even number of caches is hidden in Voitsberg.
The caches in Bregenz and Zeltweg have a maximum size of 0,5-litres, the containers in Zeltweg are larger than those in Bregenz.
1-litre-containers are used by a woman who has hidden a number of caches that can be divided by 3.
Multicaches are more abundant than CITO-caches. CITO-caches are not the least liked cache-type, but they are less liked than event-caches.
Good luck!

Verschlüsselter Hinweis

Entschlüsseln
Sbyybj gur Oyhr hagvy gur pbybhe punatrf, unir n ybbx ng gur arneol ohfu
A|B|C|D|E|F|G|H|I|J|K|L|M
N|O|P|Q|R|S|T|U|V|W|X|Y|Z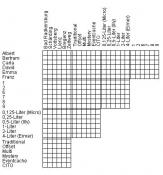 fill-in-form (german only, Eimer=bucket)

Suche Caches im Umkreis: alle - suchbare - gleiche Cacheart



Download als Datei: GPX - LOC - KML - OV2 - OVL - TXT - QR-Code

Mit dem Herunterladen dieser Datei akzeptierst du unsere Nutzungsbedingungen und Datenlizenz.