The skyscraper of Graz
Webcam am höchsten Gebäude der Grazer Innenstadt
by DeeJay58

Austria > Steiermark > Graz
Attention! This Geocache is "Archived"! There is no physical container at the specified (or to be determined) coordinates. In the interest of the place it should not be necessarily to search!
N 47° 04.017' E 015° 25.910' (WGS84)


Convert coordinates
Size: no container
Status: Archived
Time required: 0:12 h
Hidden on: 09 August 2004
Listed since: 29 November 2005
Last update: 26 February 2013
Listing: https://opencaching.de/OC0FD4
Also listed at: geocaching.com

3 Found
0 Not found
0 Notes
0 Watchers
0 Ignorers
33 Page visits
3 Log pictures
Geokrety history


Description Deutsch (German) · English
An den angegebenen Koordinaten findet man sich an einem bekannten Platz in Graz wieder. Wenn man dort Ausschau nach einem sehr hohen Gebäude hält, kann man mit ein bisschen Phantasie sogar am Dach die Cam erahnen...! Der Cache gilt nur dann als gefunden, wenn ein Foto mit dem Bild des Geocachers upgeloadet wird. Dieser sollte aufgrund der großen Entfernung irgend etwas Auffälliges tun (Winken, Kopfstand etc...). Die Kamera macht alle 2 Sekunden ein Bild, daher sollte das keine Schwieirgkeit darstellen.

Möglicherweise versucht es ja sogar jemand einmal mit dem dortigen Multimediatelefon, wäre eine interessante Variante.

Wer will kann das Internet nach der Kamera durchforsten, für alle "faulen" gibt es einen Hint zur Webpage.

Viel Spaß beim Knipsen mit dem 2. Webcam - Cache von Graz!



Additional hint

Decrypt
jjj.fgrvreznex.ng --> qnaa qra Yvax "Jropnz" fhpura!
A|B|C|D|E|F|G|H|I|J|K|L|M
N|O|P|Q|R|S|T|U|V|W|X|Y|Z

Pictures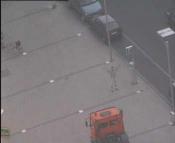 It's me

Utilities

Search geocaches nearby: all - searchable - same type



Download as file: GPX - LOC - KML - OV2 - OVL - TXT - QR-Code

When downloading this file, you accept our terms of use and Data license.


Log entries for The skyscraper of Graz

3x

0x

0x


28 May 2005 orotl found the geocache
Was tun, wenn man gerade niemanden bei der Hand hat der das Foto abspeichert? Genau man bastle einen 'Fernauslöser' den man zeitgesteuert starten kann. Bleibt dann nur das Problem zur richtigen Zeit dortzusein ... gelungen
Pictures for this log entry:
Eindeutig ich


01 April 2005 JulieWood_Rabat found the geocache
hallo miteinander
wir stehen neben dem Motorrad.

Angi & Martin

Pictures for this log entry:
Rabat bei seinem ersten Webcam Cache


16 August 2004 aj-gps found the geocache
What, first one?
Pictures for this log entry:
"trying to catch streetlight"