Taferlklaussee
The Cache is placed near the "Taferlklaussee"
by jj(g)

Austria > Oberösterreich > Traunviertel
Attention! This Geocache is "Locked, visible"! There is no physical container at the specified (or to be determined) coordinates. In the interest of the place it should not be necessarily to search!
N 47° 50.500' E 013° 37.655' (WGS84)


Convert coordinates
Size: normal
Status: Locked, visible
Hidden on: 16 August 2004
Listed since: 02 December 2005
Last update: 16 June 2011
Listing: https://opencaching.de/OC108C
Also listed at: geocaching.com

11 Found
0 Not found
0 Notes
0 Watchers
0 Ignorers
4 Page visits
1 Log picture
Geokrety history


Description
The Cache is a plastic box with a orange lid.

It originally contained:
Stashnote,Logbook,Pencil (Do not remove)1 Kuna, Ü-ei, Plastic rabbit, sand-glas,marble,TB Kanguruhdreamer, cookie-form.

Enjoy a 20 minute walk around the lake.

Additional hint

Decrypt
A|B|C|D|E|F|G|H|I|J|K|L|M
N|O|P|Q|R|S|T|U|V|W|X|Y|Z

Pictures Spoiler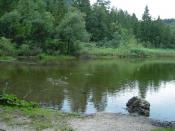 The Lake

Utilities

Search geocaches nearby: all - searchable - same type



Download as file: GPX - LOC - KML - OV2 - OVL - TXT - QR-Code

When downloading this file, you accept our terms of use and Data license.


Log entries for Taferlklaussee

11x

0x

0x


[Show all log entries]