Beware:
This cache has a long description which splits up into two parts.
Part I
is meant to be read at home before starting out for this cache (
don't worry: there is no homework to be done!
) and will hopefully help you to get an impression what to expect from this cache and to decide whether you want to go for this cache. The shorter
Part II
is intended to be used for the fieldwork part. The stage info has been put into boxes. At your own risk you can ignore the route informations provided in between the stage info boxes.
Note that I added a couple of photos to the cache description, but did not integrate them into the text. None of the photos is required for the cache - they only serve the purpose of providing a few glimpses on the visited area. The only photo you might want to print is the spoiler photo for the final.
Part I (General information about the cache)
General comment on logs: The best way to acknowledge the effort that went into this cache is to share your experiences and/or photos with me and the other cachers (without spoilering which should not be difficult for this cache). I prefer logs that are unique for the visited cache and do not fit for every cache.
Route information: The tour starts and ends in Kumberg. Expect a hike of around 16km with in total 500+ height meters (well distributed and in my opinion hardly noticable). Depending on your walking speed and the length of your breaks expect to need 3-5.5 hours for this cache (runners will be faster).

The tour starts at the church in Kumberg. The route combines trail 3, which leads from Kumberg to Gschwendt (inn Winter), a short intermezzo on trails 7 and 6 to visit the castle Kainberg and trail 2 to go back from Gschwendt to Kumberg via Pircha. (Note that trail 2 has a new routing in the second part parallel to trail 4 and is not shown correctly on older maps.)

To get an idea of the route, have a look at Bergfex (where you also can download a gpx file of their route - download at your own risk). Note however that this tour starts and ends in Pircha and deviates from the cache tour at a few points (e.g. the cache includes a visit to the castle Kainberg and follows the current routing of the trail 2 which has been rerouted).
Waypoint information: I have included untypically many waypoints. They divide up into several categories. You need to decide whether you wish to keep all of them on your GPS-device.
Stage waypoints: There are ten intermediary stages of type question to answer. The corresponding waypoints are referred to as S1, S2, ..., S10 (SX). Note that you need to find Stage 1 on your own (I wanted to avoid overlapping symbols on the cache map).

Auxiliary waypoints: Auxiliary waypoints are referred to as H1, H2, etc. They have been added to assist you in finding the right route and are not strictly necessary. Most of the time the trails are well marked, but the waypoints might be helpful if one is absent-minded and also mark locations where the route differs from the Bergfex route or where one needs to be a bit careful. You need to decide how much information you want to download to your GPS-device in order to end up with the best solution for you.

Additional waypoints: I included waypoints for the inns Jägerwirt (apparently closed) and Winter and for the chapel in Pircha (about 150 m detour from the cache route)
Target audience:
This cache has been set up for those who would like to go for an extended walk. If you consider extended walks in easy non-Alpine terrain as boring or expect adventures, overwhelming stages, demanding puzzles, special containers and/or tricky hideouts, this is the wrong cache for you. The same is true if you identify yourself with the statement "This is caching and not walking around". This cache is about walking around with the option to find and log a cache in the end.

I appreciate walks like this one in particular when I need a timeout from the daily routine and do not want to go for a longer drive. It would make me very happy if more caches (not cache series!) that invite for a 10+ km walk existed in Styria. If you happen to enjoy the walk and are like myself tired of too many puzzle caches, powertrails and drive in caches, please consider to hide a hiking multi cache yourself.
Best seasons:
The best seasons for this cache are in my opinion spring and autumn (when the trees are in bloom or carry fruits). Visits in winter have its charme too (all intermediary stages are solvable also when there is snow - finding the cache should be possible too with the help of the spoiler photo and if you are willing to dig a bit). I would not recommend this cache, however, for a really hot summer day. If you want to enjoy nice views to the surroundings and the Schoeckl on your way, choose a day with reasonably good weather.
Cache setup:
To complete this cache you need to visit 10 intermediary stages of the type question to answer. The obtained variables will then lead you to the coordinates for the cache container.
All ten intermediary stages have intentionally been set up in a way that allows to obtain the required information quickly. I refrained from asking tricky questions to focus on the walk and on the nature and to make this cache doable together with people who do not appreciate caching and hate having to stop many times along the route.
Terrain information:
The cache route leads along forest trails, field tracks, meadow paths and also includes parts along paved roads (typically with a low traffic volume).
The forest and meadow trails can be muddy (in particular after intense rainfall and due to forestry works which have been underway also when I've hidden this cache). So wear shoes that can get dirty.

The parts along roads cannot be avoided when the goal is to close the loop in a semiurban setting. In many cases it is possible however to walk at the edge of the road and so to avoid having tarmac under one's feet.
The terrain difficulty never gets higher than 2* and often is best described by 1.5*. I rated the cache with 2.5* only due to its length (the easy terrain led to a discount by 0.5* which is always at the discretion of the cache hider).
Mode of visit:
This cache has been set up with walkers in mind. I urge you not to split up this cache into many parts by driving as close to the stages as possible. This is not the idea behind this cache. In any case, please respect all driving probihited signs (including those which allow driving for residents).

I decided to provide the coordinates for all intermediary stages to assist those who do not like to calculate on the way. I do hope however that this will not be exploited by car cachers. Whoever does not have time for a walk of several hours, should please stay away from this cache.

I ask you to visit this cache during day time and to refrain from visits in the night. The (official) trails lead through private property several times (made possible by the kindness of the property owners) and pass by houses closely.

Bicycles, horses, dogs:
It would be possible to use a MTB, but cycling is not allowed in parts of the route. The same holds for riding a horse. Dogs are not forbidden, but there are a few occasions where critical situations might arise (in particular on the property of the Bachseppl riding stable and when crossing areas where horses, cows or other animals are out on a paddock).
Public transportation:
Kumberg can be reached by the Verbundlinie bus lines 200/201 and 220/221 . Get off at stop Kumberg Ganster (schedule)
Provisions:
Better bring along your own provisions and in particular enough to drink. Except inns in Kumberg (start and end point) the route does not have to offer many inns. The inn Zehentbauerwirt (Jägerwirt) did not create the impression to be to be open. The inn Leinhiasl (at the chapel in Pircha) has been closed. The only available inn on or close to the cache route which is still open is the inn Winter in Gschwendt (250 m off the route; closed on Tueday and Wednesday).
Other caches :
The area around Kumberg is not cache dense. Please note that I do not appreciate if visitors of my caches decide to hide additional caches along my cache routes.

The following caches lie on the cache route or do not mean a big detour:
Der alte Riese (close to the start)
Blick auf Kumberg 3 (replaces an archived cache, slight detour, nice view still there)
Regina atra (requires detour and extra effort)
Die drei Nadelbäume am Bacherl (newly hidden in August, minor detour)

These caches require a larger detour from the cache route
Ff6971w4l1
Klammheimlich (quite a detour!)

The following caches might be well suited after this cache to relax:
W-W-K (short multi cache in the Well Welt Kumberg)
Es ranken sich viele Sagen um Elektra (very short walk, no homework part)
Part II (Fieldwork)
Now let's start into the cache.
Start
N 47° 09.618' E 015° 32.032'

You can park at the public parking lot in front of the shop Loder. On Saturday morning a market takes place, but even then it is normally possible to find a free lot.
Now walk to the church.


Stage 1 (Church/war memorial)
No coordinates provided

Visit the war memorial and have a look at the list of victims of WW I.


A: Position in the alphabet of the first letter of the surname of the last person in the list.


If you have a bit of time to spare, have a look at the church from outside and inside (more information on the church) and do not miss the impressive old Linden tree. There is also the cache Der alte Riese close by.
Further way: (Auxiliary waypoint H1)
Follow trail 3 down the Bergstraße and further into Teichweg. Soon you will reach a forest area close to waypoint
H1
. Continue further on trail 3.
Stage 2 (Signpost)
N 47° 10.145' E 015° 32.067'

Watch out for a rectangular green sign. Three distances (in km) are mentioned. Sum the three values to obtain S.

Further way: (Auxiliary waypoint H2)
At Stage 2 do not continue further along trail 3. Change over to trail 7 (into the direction of castle Kainberg). You will pass a little creek and a small quarry-like area on your way. At auxiliary waypoint
H2
either switch over to trail 6 or continue to follow trail 7. In both cases you will end up at the Stage 3 close to the castle.
Stage 3 (Castle Kainberg)
N 47° 10.478' E 015° 31.711'

The origins of castle Kainberg date back to the late 13-th century. The castle served fortification purposes. The ownership changed several times over the centuries.
For more information about the castle you might consult the Burgenseite (information in German).

The area around the castle is private property and visitors are not welcome (prohibition sign). So this stage will lead you to a legally reachable place from where you have a good view on the front side of the castle.

Watch out for a bench. While it might not look new, it has been placed in Autumn 2019 which made it necessary to change the stage question.


C1:The total number of planks of the bench (seat and back rest).
C2: The letter code of the first letter of the colour with which the metal parts of the bench are coloured (options: brown, green, orange, silver, violet, white).
C = C1 * C2 + 11.


Backup question: Watch out for a post with two signs which warn people who wish to enter the castle area. Have a look at the yellow sign.

C3: The letter code of the first letter of the second word on the yellow sign.
C4: The letter code of the first letter of the third word on the yellow sign.
C = C3 * C4 + 2.
Further way: (Auxiliary waypoints H3, H4, H5)
Walk back a couple of meters up to the signpost and continue your walk on trail 7. On your way back to trail 3 you will pass a few impressive beaches (for a photo of one of them see the enclosed photos). The auxiliary waypoints
H3
and
H4
assist you in reaching trail 3 again which will be your companion for a quite a while.
Note the tree shrine at waypoint
H5
which I did not turn into a stage in order to minimize the number of stages which can be visited by motorized vehicles. Now you can decide whether or not you want to a make a small detour to the cache
Blick auf Kumberg 3
and enjoy the nice view on Kumberg and then return to
H5
.
Stage 4 (Quite imperial)
N 47° 10.829' E 015° 32.394

Here you will find a nice view and quite an imperial version of this type of object. Find two warning signs. Near each of the signs you will find a number with two digits (the same in both cases).

D: The 2 digit number described above.
Further way: (Auxiliary waypoint H6)
On your way to the next stage you will encounter a small miniature gorge and you will cross a creek. Head for waypoint
H6
and then further to Stage 5. Note that the Bergfex route deviates from the marked route 3 from the creek onwards. Stay on the marked route. Sooner than you might wish the nice forest part comes to a temporary end. You arrive at a paved road which leads you to the next stage.
Stage 5 (Roof)
N 47° 11.549' E 015° 32.315'

Look at the roof of the house. What is affixed to it?

E = 38: if it's a satellite dish.
E = 271: if it's a power line.
E = 145 : if it's a weather cock.
Further way: (Auxiliary waypoints I1, H7, H8, H9, H10)
Continue along trail 3. Soon you will arrive at the inn Zehentbauerwirt/Jägerwirt (waypoint
I1
) which seemed to be closed upon my visit. For the next part of your walk there are two alternatives: Either follow the road (marked route) or take the small meadow path which starts close to the wayside shrine (navigate to auxiliary point
H7
in that case). I took the meadow alternative, but I do not know whether later in the year paddocks might cause an issue.
Regardless of which alternative you took to arrive in Grubberg, turn right at waypoint
H9
and do not try to follow the Bergfex route (the trail shown there does not exist any longer). At waypoint
H10
trail 3 leaves the road again. A nice meadow path waits for you.
Stage 6 (Fence)
N 47° 11.315' E 015° 32.698'

Pass the fence through the door (do not forget to close it again).
Which shape does the door handle (on your side of the door) have?


F = 79: if it's oval
F = 105: if it's like a square
F = 27: if it's cylindric


The hiking trail leads through the orchard owned by family Auer (vulgo Bockhiasl). They not only sell fruits but many other products (trouts, pumpkin seed oil, home made bread etc). This part should be particularly nice when the trees are in bloom.

Further way: (Auxiliary waypoints H11 and H12)
After passing through the orchard you will arrive at the homestead of family Auer. Now for a while you will walk along a paved road (Hirtenfeldbergstrasse). Follow further trail 3 and head for waypoint
H11
. After a while you will arrive at the entrance to the rider stable Bachseppl (waypoint
H12
). Two horse sculptures and typically several real horses will welcome you. Be very careful when you come with dogs. From the Bachseppl trail 3 now leads you over the meadow to Stage 7 where a little bridge waits for you.
Stage 7 (Bridge)
N 47° 10.965' E 015° 33.513'

You have arrived at a little bridge.


G: The total number (both sides!) of vertical posts of the bridge railing.
Further way: (Auxiliary waypoints H13, H14, I2)
After having walked over the bridge a nice path will lead you to waypoint
H13
where you reach a road (Gollerstraße). Soon thereafter you can leave the road however again. Continue on trail 3. You will will reach a road with a higher traffic volume (Gschwendter Straße) close to a wayside shrine. You now have two alternatives: Either you make a detour to the inn Winter (waypoint
I2
; closed on Tuesday and Wednesday) or you immediately continue on trail 2 which leads you via Pircha back to Kumberg. Turn right at waypoint
H14
. (Note the deviation from the Bergfex route which is not recommendable as I learnt myself. Better follow the signposts for trail 2.) After a short walk along a small paved road you will again get a natural underground under your feet.
Stage 8 (Sign post)
N 47° 10.273' E 015° 33.963'

Watch out for a sign which mentions two distances (in km). Add the two values to obtain the sum T

Further way: (Auxiliary waypoints E1, H15)
Trail 2 will lead you to Pircha where you will reach the B72, a road with heavy traffic. The former inn Leinhiasl has been closed a while ago. If you want to have a look at the chapel that most of you will often have passed by car, you can make a small detour to the inn nevertheless (waypoint
E1
). There is a sidewalk so that you do not need to walk along the edge of the B72.
Regardless of whether you took a detour to the chapel, you need to follow then trail 2 westwards. You will probably be glad that you could leave the B72 area quickly. At waypoint
H15
you might encounter two closed gates. The hiking trail leads through an area with horses on paddocks. If the gates are closed, you can pass through one of the openings or under the nearby fence (this was what the property owner told me to do when I was slightly confused about the closed gates directly on the marked trail).
Stage 9 (Cross and tree)
N 47° 09.964' E 015° 33.393'

You have arrived at a cross with a tree next to it. Which tree is it?


K = 204: if it's an oak.
K = 53: if it's a Linden tree.
K = 165: if it's a fruit tree.
Further way: (Auxiliary waypoint H16)
At waypoint
H16
trail 2 leaves the road again and turns to the right. In this area the routing of trail 2 has been changed. (The old routing via the Schustergraben is not marked any longer and the small dotted trail shown on the map hardly exists any longer. For this and other reasons I decided to follow the new route of trail 2 and deviate from the Bergfex route once again.) In the forest area where Stage 10 is located forestry works took place when I was there. There are many trails and some were quite muddy.
Stage 10 (Four arrows)
N 47° 09.968' E 015° 32.899'

Here you will find four arrow-shaped sign posts (there is a fifth of a different shape that is irrelevant for this stage).


L: Number of letters (umlauts count as one letter) of the text that lists the (three) target destinations on the front side of the bottommost of these four signs.
Final
N 47° 09.X' E 015° 32.Y'

Now you are almost done. It remains to undertake the easy calculations given below (there is no bench nearby). Alternatively, you can use make use of the multichecker if you have mobile internet access. (The multichecker option is an experiment - if it gets abused, I will remove this option.)



U = A + C + E + G + K
V = B + D + F + H + L
X = 2*U - D + 27
Y = 2*V - 5*G -3

The variables U and V have among others been introduced to provide a check for the coordinates (see the hint) that does not directly involve X and Y.

The cache container is a small lock and lock container which contains a stashnote, a logbook and two pencils. I intentionally did not add any trading items (the cache is not kid-friendly anyway). Only leave trackables if the owner does not mind if the trackables get stuck in a cache for a longer time.
Further way: (Auxiliary waypoints H17, H18, H19)
By following trails 2 respectively 4 (they lead in parallel in this area) you will find your back to the start point. Somewhere along your way back you will have to leave the trail at a suitable location and head for the final. Waypoints
H17
,
H18
and
H19
can be used as further guidance in case of doubt about the proper route.
---
---
Spoiler picture/Spoiler Foto
Castle Kainberg frontal view Schloss Kainberg Frontansicht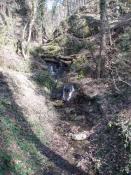 Brook along the way/Bach am Weg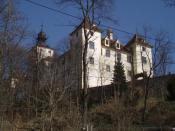 Castle Kainberg from below Schloss Kainberg von unten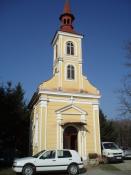 Chapel in Pircha (detour)/Kapelle in Pircha (Umweg)
Horse at rider stable Bachseppl Pferd beim Reitstall Bachseppl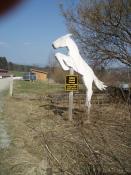 Horse sculputure at rider stable Bachseppl Pferdeskulptur beim Reitstall Bachseppl
Impressive tree along the trail nr 7 after castle Kainberg Eindrucksvoller Baum am Weg Nr 7 nach Schloss Kainberg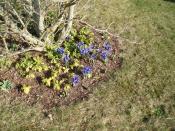 Iris on March 8! Iris an einem 8. März!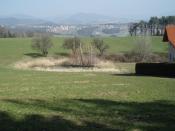 Little pond/Kleiner Teich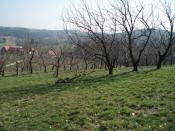 The trail passes through the orchard Auer. Der Weg führt durch den Obstgarten Auer.
Poor tree/Armer Baum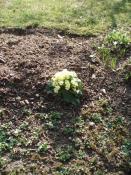 prime rose/Primel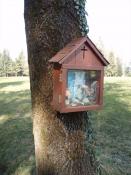 Tree shrine on the way/Bildbaum am Weg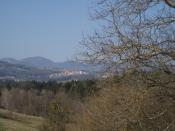 View along the view/Aussicht am Weg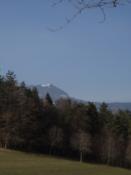 View to Schoeckl/Blick zum Schöckl