Description Deutsch (German) · English
Deutsche Version
Der Cache liegt auf dem Weg zum Rechelkopf, einem Berg bei Bad Toelz. Dieser ist 1328 m hoch, der Cache selbst liegt hoehenmaessig 200 m tiefer.
Mehrere schoene Wege fuehren zu diesem Cache bzw. zum Gipfel. Die gesamte Wanderung Bad Toelz - Rechelkopf - Bad Toelz laesst sich in drei gemuetlichen Stunden inkl. Pausen erwandern.
English version:
The cache is at the trail to the Rechelkopf, a mountain at Bad Toelz.
You will need 3 hours from Bad Toelz to the top of the mountain and back.
The GC is not located directly at the top (1328 m), you can find it on 1128 m AMSL.
DEUTSCH: Hagre qra Fgrvara nhs qre Ehrpxfrvgr qre Xncryyr.
ENGLISH: Haqre gur fgbarf ba gur onpx-fvqr bs gur puncryy.
A|B|C|D|E|F|G|H|I|J|K|L|M
N|O|P|Q|R|S|T|U|V|W|X|Y|Z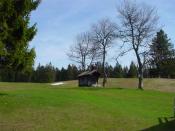 Ein Ort zur (inneren) Einkehr Spoiler

Search geocaches nearby: all - searchable - same type



Download as file: GPX - LOC - KML - OV2 - OVL - TXT - QR-Code

When downloading this file, you accept our terms of use and Data license.