Packan
Es klappert die Mühle am rauschenden Bach......
by suzukirv90

Germany > Schleswig-Holstein > Ostholstein
Attention! This Geocache is "Archived"! There is no physical container at the specified (or to be determined) coordinates. In the interest of the place it should not be necessarily to search!
N 53° 58.970' E 010° 41.857' (WGS84)


Convert coordinates
Size: small
Status: Archived
Time required: 0:30 h Route: 1.0 km
Hidden on: 24 August 2015
Published on: 24 August 2015
Last update: 04 October 2015
Listing: https://opencaching.de/OC124EB


2 Found
0 Not found
1 Note
3 Maintenance logs
1 Watcher
0 Ignorers
35 Page visits
0 Log pictures
Geokrety history

Time

Seasonal

Listing


Description Deutsch (German)
Es ist ein wunderschöner Ort  um verweihlen. Es gibt hier einen Pavillon zum unterstellen und setzen wenn es regnet, in der Nähe ist ein kleiner Teich in dem Hunde auch Baden durften, wenn sie nicht gerade mit einem Fisch herauskommen. Auch eine Bank und ein Tisch für ein Piknick  befinden sich in der Nähe. Hier kann man wunderbar entspannen und die Seele baumeln lassen.

Additional hint
Wenn du den Ort gefunden hast, wirst du wahrscheinlich drauf stehen.
A|B|C|D|E|F|G|H|I|J|K|L|M
N|O|P|Q|R|S|T|U|V|W|X|Y|Z

Pictures
Schöne Aussicht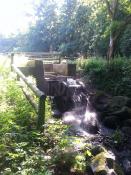 Es plätschert so schön...

Utilities
This geocache is probably placed within the following protected areas (Info): Landschaftsschutzgebiet Tallandschaft der Schwartau nördlich Alt-Techau (Info)

Search geocaches nearby: all - searchable - same type



Download as file: GPX - LOC - KML - OV2 - OVL - TXT - QR-Code

When downloading this file, you accept our terms of use and Data license.


Log entries for Packan

2x

0x

1x

3x


[Show all log entries]