Attention! This Geocache is "Archived"! There is no physical container at the specified (or to be determined) coordinates. In the interest of the place it should not be necessarily to search!
N 51° 25.639' E 009° 13.127' (WGS84)


Convert coordinates
Size: micro
Status: Archived
Hidden on: 27 October 2005
Listed since: 17 December 2005
Last update: 15 August 2011
Listing: https://opencaching.de/OC1274
Also listed at: geocaching.com

33 Found
0 Not found
0 Notes
0 Watchers
0 Ignorers
21 Page visits
0 Log pictures
Geokrety history


Description Deutsch (German)
Nützlicher Cache an einer Notrufsaeule Die Idee zu dieser Cache-Serie kommt aus Huskies Arbeit als Rettungssanitaeter. Ihr habt nun die Koordinaten von Notrufseulen als Caches im Geraet - schaden kann es nicht.
Die Bjoern-Steiger-Stiftung hat in Deutschland viele Saeulen privat finanziert, naeheres findet Ihr hier.
Jeder kann sich an dieser Serie mit Notrufsaeulen beteiligen und sollte sie zur besseren Auffindbarkeit in GC.COM mit SOS - Notrufsaeule bezeichnen und einen Hinweis auf diese Serie in der Cachebeschreibung aufnehmen.

Das Döschen hat einen magnetischen Streifen!!!



Additional hint

Decrypt
Uvagre qrz M, orv Onhz Ahzzre 71
A|B|C|D|E|F|G|H|I|J|K|L|M
N|O|P|Q|R|S|T|U|V|W|X|Y|Z

Pictures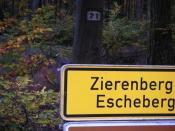 hinter dem Z

Utilities
This geocache is probably placed within the following protected areas (Info): Landschaftsschutzgebiet Naturpark Habichtswald (Info), Naturpark Habichtswald (Info)

Search geocaches nearby: all - searchable - same type



Download as file: GPX - LOC - KML - OV2 - OVL - TXT - QR-Code

When downloading this file, you accept our terms of use and Data license.


Log entries for SOS - Notrufsaeule L3080 Breuna

33x

0x

0x


12 September 2010 Wisojoma found the geocache
0C# 56, 16:37 Uhr, ges# 527

Auf Geschäftsreise ins Sauerland schnell mal gehalten. Vielen Dank für die Fahrtunterbrechung.

TFTC sagt Team Wisojoma (1 + 2)

18 November 2009 shapeshifter79 found the geocache
21:55 Uhr

Und mal wieder ne Notrufsäule. Da ich aus der "falschen" Richtung kam, habe ich das Döschen schneller gefunden als die Notrufsäule selbst ;-).

Danke für diesen Cache und viele Grüße aus Menden,
shapeshifter79

21 September 2009 RamsesII found the geocache
Auf dem Weg nach Hause noch Zeit fuer einige Caches gehabt.

TFTC


30 May 2009 Babbsack + Bastelkarte found the geocache
Moin,

auch dieser konnte sich nicht lange verstecken, und wurde eingefangen !!

TFTC Babbsack + Bastelkarte ( BaBa )

[Show all log entries]