Attention! This Geocache is "Archived"! There is no physical container at the specified (or to be determined) coordinates. In the interest of the place it should not be necessarily to search!
N 51° 48.179' E 009° 41.283' (WGS84)


Convert coordinates
Size: micro
Status: Archived
Hidden on: 30 December 2005
Listed since: 30 December 2005
Last update: 11 October 2011
Listing: https://opencaching.de/OC13EB
Also listed at: geocaching.com

20 Found
1 Not found
0 Notes
0 Watchers
0 Ignorers
59 Page visits
1 Log picture
Geokrety history


Description Deutsch (German)
Kleiner Mirkro für Technikfreaks.
An dieser Stelle findet Ihr ein alte Straßenbauwalze.
Wer mag kann auch mal ne runde Aufsitzen.

Viel Spass beim suchen!

Additional hint

Decrypt
A|B|C|D|E|F|G|H|I|J|K|L|M
N|O|P|Q|R|S|T|U|V|W|X|Y|Z

Pictures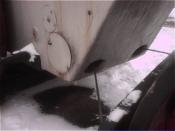 Spoiler

Utilities

Search geocaches nearby: all - searchable - same type



Download as file: GPX - LOC - KML - OV2 - OVL - TXT - QR-Code

When downloading this file, you accept our terms of use and Data license.


Log entries for Relikte - Walze

20x

1x

0x


[Show all log entries]