Cache lists
Webcams in Greece

by GEO-TOURS
Waypoints


Time


Seasonal


Listing

visit: Info · Webcam · Image · Port 
---
Go to the above coordinates.  
You will be in front of a webcam that takes a picture.  
Now you need someone to save the picture of yourself taken by the webcam or save it as a screenshot on your smartphone.
To log this cache, you have to post this picture.
The picture should allow to identify you as a geocacher.
How you do that is up to you, if you want:
holding up an umbrella, banners, warning vests, balloons, headlights, or cheering into the camera... all the purpose is welcome!
Vs gur jropnz vf bssyvar, cyrnfr gnxr n cubgb bs lbhefrys be lbhe TCF/fznegcubar, fubjvat gur jropnz va gur onpxtebhaq.
A|B|C|D|E|F|G|H|I|J|K|L|M
N|O|P|Q|R|S|T|U|V|W|X|Y|Z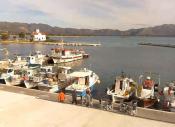 Church of St. Spyridon (webcam)

Search geocaches nearby: all - searchable - same type



Download as file: GPX - LOC - KML - OV2 - OVL - TXT - QR-Code

When downloading this file, you accept our terms of use and Data license.