N 53° 21.698' E 012° 34.747' (WGS84)


Convert coordinates
Size: small
Status: Available
Time required: 0:45 h Route: 0.25 km
Hidden on: 13 October 2018
Published on: 13 October 2018
Last update: 08 April 2019
Listing: https://opencaching.de/OC14CE4


3 Found
0 Not found
0 Notes
0 Watchers
0 Ignorers
17 Page visits
0 Log pictures
Geokrety history

Infrastructure

Route

Time

Seasonal

Listing

Tools needed


Description Deutsch (German)
Das slawische Nedebu (Nätebow) wurde erstmals 1261 urkundlich erwähnt. Es war einst ein selbstständiger Ort neben Bollewick. 1331 baute der Besitzer der Dörfer Nätebow und Bollewick,Conrad von Büne, Ritter des Fürsten von Werle, in Nätebow eine Kirche. Im Dreißigjährigen Krieg wurde das Dorf Nätebow zerstört. Die zur Ruine verkommene Kirche wurde 1682 aufgebaut und erhielt dabei im Wesentlichen ihre heutige Form. Um 1790 ereignete sich ein Brand, dem der Kirchturm zum Opfer fiel. Ein neuer Kirchturm wurde erst 1903 errichtet. Sehenswert im Inneren der Kirche ist ein spätgotischer vierflügliger Schnitzaltar von 1522 so wie eine historische Patronatsloge aus dem 17. Jahrhundert.
Im Sommer ist an Wochenenden die Kirche zur Besichtigung geöffnet.

Der cache befindet sich vom angegebenen Wegpunkt aus ca. 17 Schritt in Richtung Nordwest.
Muggelgefahr: mäßig

Additional hint

Decrypt
A|B|C|D|E|F|G|H|I|J|K|L|M
N|O|P|Q|R|S|T|U|V|W|X|Y|Z

Pictures
Bild 1
Bild 2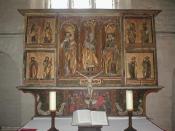 Bild 3
Bild 4

Utilities

Search geocaches nearby: all - searchable - same type



Download as file: GPX - LOC - KML - OV2 - OVL - TXT - QR-Code

When downloading this file, you accept our terms of use and Data license.


Log entries for Nätebow

3x

0x

0x



03 March 2019 LuMaKu found the geocache
Nach15 min Cache gefunden,  hat uns riesig Spaß gemacht.
Gruß die Urlauber LuMaKu

09 January 2019, 18:06 Zippojaner found the geocache
Auch den zweiten( nach einem guten Schluck Milch) noch schnell geholt. Auch hier gab es für den Zweiten etwas zu naschen. Komisch nur das so wenige hier waren!?🤔


30 October 2018 Henne&Jan found the geocache
Schön ist es hier morgens, sonst vielleicht auch. Auch hier noch schnell ein FTF. Als ich neulich schon mal hier war, waren ein paar Muggel vor Ort und suchen war nicht sinnvoll. Danke!