Cache lists
Caches in english

por Le Dompteur
Caches på dansk

por Le Dompteur
Nordsee-Safari

por FlashCool
📷kuriose Safaris

por cacher.ella
📷Schilderwald (Safari)

por cacher.ella
Peligroso

Waypoints

Tiempo

Estacionales


Listado


This is a virtual safari-cache. It is not bound to a single place but can be found all over the world. The listing-coords are just an example.
Other caches with the "safari-attribut" are listed here.
Safari-caches and their responding logs are shown on the safari-cache-map.
This cache and the logs are shown here.
No cache is worth to risc your health!
Sometimes road users are warned of
crossing things
that are fixed and so should be immobile. Waiting for such "thing" is useless, because nothing trespasses the road or rushes out of the bushes.
Safaria task & logging condition:
• Find a sign that warns of a
crossing, immovable
thing.
• Take a photographic picture of it and personalize this by holding someting unique into the camera.
• Upload the picture and name the coords of the place where it was taken.
As it is common sense: one cacher =>
one find
=> one site. Thank you!
Please input the coords, as claimed in the log-condition in the format "N/S DD MM.MMM E/W DDD MM.MMM" (e.g. "N 48 00.000 E 008 00.000") into the log. So they can be shown on the safari-cache-map!
This cache and its logs are mentioned here.

Ayuda adicional

Descripción
[Alemán] Xeögra jnaqrea, Jvyq jrpufryg, Oähzr fpuyntra nhf haq Xerhmsnuegfpuvssr xerhmra... qnf vfg qrera Jrfra - nore uvre AVPUG trfhpug!

A|B|C|D|E|F|G|H|I|J|K|L|M
N|O|P|Q|R|S|T|U|V|W|X|Y|Z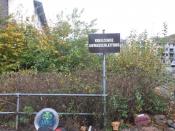 kreuzende Dinge SVC Exempel 1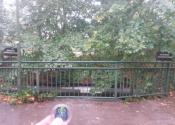 kreuzende Dinge SVC Exempel 2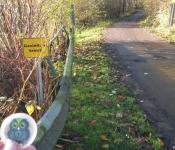 kreuzende Dinge SVC Exempel 3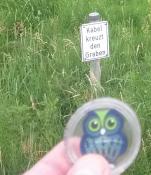 kreuzende Dinge SVC Exempel 4

Buscar geocaches en las inmediaciones: todo - búsqueda - mismo tipo



Descargar como archivo: GPX - LOC - KML - OV2 - OVL - TXT - QR-Code

Al descargar este archivo, aceptas nuestros terminos de uso y Licencia de Datos.