This cache was set up to honour the original cache Le Rocher des Portes (GC1FW78) which unfortunally was muggled and deactivated in 2013. This cache is the second try and now also contains a container with space for little trackables which my first cache Le Rocher des Portes (Reloaded) (OC13BE7) did not.
I passed the small island "Le Rocher des Portes" which is located right in front of Cap Camarat countess times as a guest on a scuba diving boat. Then after years I noticed that there is a cache on the island. As I liked both the cache and also the island plus the hiking down to the island from the lighthouse along with the breathtaking ocean and coastal view from the rocks so much I had to put a cache here again.
You can access the cache by boat or swimming. Please be aware of the drift between the cape and the island, which can be quite strong, depending on the tide. Also you can easily fall and injure yourself on the rocky and slippery rocks near the water. Please be aware of passing boats also.
The cache is located under some bigger and smaller rocks near the highest point of the island on the side of the island which is facing the cape. The cache itself is attached to a chain. Use the chain to pull the cache out of the hiding place. The container mentioned above is also nearby and contains the log book. Please behave gentle and be aware of the birds which use the island as a breeding area.
Remember the notes you will find in the cache. Either make a photo (don't wet the camera on the way to the cache) or use a piece of paper and a pencil.
Please hide the cache and the container again carefully under the rocks.
If you want and can, please enclose some photos of your visit to the island in your log. The scenery really deserves it.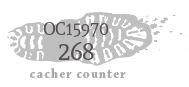 Zusätzliche Wegpunkte

andere Koordinatensysteme
| | |
| --- | --- |
| | Parkplatz |

N 43° 12.060'
E 006° 40.440'

| | |
| --- | --- |
| | Pfad |

N 43° 12.067'
E 006° 40.431'
FR: Début du sentier
EN: Trailhead
DE: Beginn des Pfades

| | |
| --- | --- |
| | Station oder Referenzpunkt |

N 43° 12.000'
E 006° 40.862'
FR: Commencez à nager ici. ;-)
EN: Start swimming here. ;-)
DE: Hier anfangen zu schwimmen. ;-)

Die zusätzlichen Wegpunkte werden bei Auswahl des Caches auf der Karte angezeigt, sind in heruntergeladenen GPX-Dateien enthalten und werden an das GPS-Gerät gesendet.

Verschlüsselter Hinweis

Entschlüsseln
Ercynpr gur yrggre "&" jvgu "@".
A|B|C|D|E|F|G|H|I|J|K|L|M
N|O|P|Q|R|S|T|U|V|W|X|Y|Z

Suche Caches im Umkreis: alle - suchbare - gleiche Cacheart



Download als Datei: GPX - LOC - KML - OV2 - OVL - TXT - QR-Code

Mit dem Herunterladen dieser Datei akzeptierst du unsere Nutzungsbedingungen und Datenlizenz.