¡Atención! Este geocache es "archivado"! No es un contenedor físico a las coordenadas especificadas (o los que tienen que determinar). ¡El interés del lugar no es necesariamente la búsqueda!
N 40° 42.457' E 014° 42.134' (WGS84)


Convertir coordenadas
Tamaño: pequeño
Estado: archivado
Ocultos en: 12. junio 2020
Publicado en: 12. junio 2020
Última actualización: 15. junio 2021
Listado: https://opencaching.de/OC16291


0 encuentran
0 no encontrado
0 Notas
2 Maintenance logs
0 Observado
0 Ignorado
2 Visitas
0 Los de imagenes
Historia Geokrety


Descripción English (Inglés) · Italiano
Attualmente, purtroppo, è in stato di abbandono.
In 1840 the Hotel De Londres was built in S.Vito, which mainly had customers of English nationality. During its activity it had numerous guests and important world personalities. This is also due to the fact that Cava de 'Tirreni was recognized as a Resort, Tourism and a Healthcare site. It was the first in Campania and the fifth in all of Italy to obtain this recognition by Ministerial Decree in 1926.

From about 1980 it was used as elderly home, in fact in the city it is known today as the "ex-ONPI" (National Opera for the Pensioners of Italy). ONPI was established in 1948, it took the place of the national fascist institution the elderly. In 1972 there were only 37 of this type of hospices (each called "Casa Serena") throughout the national territory, including the one in Cava de' Tirreni, for a total of about 10,000 beds.

Over the years the build underwent many structural changes, even a little church has been added on the right side of the building.

Unfortunately, it is currently in a state of neglect.

Ayuda adicional

Descripción
Gur iretva Znel vf n tbbq thneqvna...
A|B|C|D|E|F|G|H|I|J|K|L|M
N|O|P|Q|R|S|T|U|V|W|X|Y|Z

Imagenes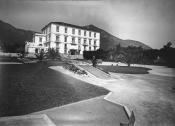 Hotel De Londres Hint

Utilidades

Buscar geocaches en las inmediaciones: todo - búsqueda - mismo tipo



Descargar como archivo: GPX - LOC - KML - OV2 - OVL - TXT - QR-Code

Al descargar este archivo, aceptas nuestros terminos de uso y Licencia de Datos.


Log de entrada por CNGEI_Cava_#1

0x

0x

0x

2x



15. junio 2021 Opencaching.de has archived the cache
This cache has been "temporarily unavailable" for more than 12 months now; therefore it is being archived automatically. The owner may decide to maintain the cache and re-enable the listing.