Attention! This Geocache is "Temporarily not available"! The geocache itself or parts of it are missing or there are other issues that make a successful search impossible. In the interest of the place it should not be necessarily to search!

Description Deutsch (German)
Die Schleusenaussichtsplattform liegt auf der Südseite des Kanals (Kieler Stadtteil Wik) und kann von Sonnenaufgang bis Sonnenuntergang besucht werden. Die Aussichtsplattform befindet sich genau über dem Schleusentor, auf einem Torbunker aus dem zweiten Weltkrieg. Der Bunker überdacht die Schleusentorkammer Nr. 4. Von hier lässt sich unmittelbar verfolgen, wie Schiffe geschleust werden und sich das Schleusentor öffnet und schließt. Auf der Schleusenaussichtsplattform finden Sie verschiedene Info-Tafeln und Modelle, die die Funktion und das Geschehen rund um den Nord-Ostsee-Kanal erklären.
Ein Aufzug ermöglicht den barrierefreien Zugang zur Plattform.
Und keine 30 Meter von diesem Döschen liegt schon der nächste Cache: OC130E7 "Torbunker 4"!
ENOYURHS ERON — ENOGUPVF GUPVA
A|B|C|D|E|F|G|H|I|J|K|L|M
N|O|P|Q|R|S|T|U|V|W|X|Y|Z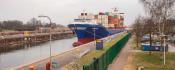 Östlicher Schleusenblick!

Search geocaches nearby: all - searchable - same type



Download as file: GPX - LOC - KML - OV2 - OVL - TXT - QR-Code

When downloading this file, you accept our terms of use and Data license.