Attention! This Geocache is "Temporarily not available"! The geocache itself or parts of it are missing or there are other issues that make a successful search impossible. In the interest of the place it should not be necessarily to search!

Description Deutsch (German)
Die Rote Marter stand 500 Jahre im Waldgebiet Mönau zwischen Kosbach und Untermembach. Da sie in einem Jahrzehnt sechs mal massiv beschädigt wurde, hat man sie im Jahr 1998 auf das Gelände des Kosbacher Stadls verlagert (siehe Bilder).
Am ursprünglichen Ort befindet sich ein Gedenkstein und außerdem zwei Geocaches, siehe den OC-Cache Rote Marter. Dort findet man auch weitere Infos.
Die vorliegende Dose (Petling) befindet sich nun in der Nähe der Roten Marter beim Kosbacher Stadl. Bitte auf Muggel achten und wieder gut verstecken.

A|B|C|D|E|F|G|H|I|J|K|L|M
N|O|P|Q|R|S|T|U|V|W|X|Y|Z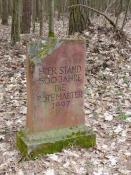 Der Gedenkstein
Die Hinweistafel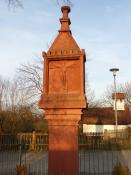 Die Rote Marter in Kosbach

Search geocaches nearby: all - searchable - same type



Download as file: GPX - LOC - KML - OV2 - OVL - TXT - QR-Code

When downloading this file, you accept our terms of use and Data license.