N 52° 16.909' E 008° 44.772' (WGS84)


Convert coordinates
Size: small
Status: Available
Hidden on: 02 April 2006
Listed since: 02 April 2006
Last update: 23 June 2011
Listing: https://opencaching.de/OC1A82
Also listed at: geocaching.com

7 Found
0 Not found
1 Note
1 Watcher
0 Ignorers
135 Page visits
0 Log pictures
Geokrety history


Description Deutsch (German)
Habe ihn am 03.10.04 besucht. Wie beschrieben! Alles in Ordnung!

Das ist ein Wandercache, welcher kleine Steigungen verspricht und mit Kompass zum Erfolg führt. Beginne bei o.g. Koordinaten. Dann findest du eine Wandertafel, hinter der du eine umrandete Zahl für die Peilung findest. Gehe diesen Weg bergan bis zur 1. Wegegabelung, dann nach ca. 310°, du wirst dann eine Schutzhütte erkennen. Ein Stückchen weiter, ca. 10m Richtung W ist wieder eine Abzweigung, gehe davon ca.380m Luftlinie, 298° und bleibe auf diesem Weg . Dann wirst du den Cache garantiert finden.Viel Spaß beim SuchenMesserGrundbleiBrillenreinigerLogb.G.Caching Hinweisblatt






Additional hint

Decrypt
Znpur nz Mvry fryofg qvr tranhr Crvyhat mhz Pnpur, iba qrz Onhz nhf. Ragsreahat: ovf mhe Jnaq. Qh zhßg qvpu rgjnf oüpxra. f. Sbgb

A|B|C|D|E|F|G|H|I|J|K|L|M
N|O|P|Q|R|S|T|U|V|W|X|Y|Z

Pictures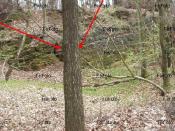 Peilung Baum zur Wand

Utilities
This geocache is probably placed within the following protected areas (Info): Naturpark Nördlicher Teutoburger Wald-Wiehengebirge NI (Info)

Search geocaches nearby: all - searchable - same type



Download as file: GPX - LOC - KML - OV2 - OVL - TXT - QR-Code

When downloading this file, you accept our terms of use and Data license.


Log entries for Ostercache 2004

7x

0x

1x


23 November 2019 Maedchen100 found the geocache
Auch im November kann ein Ostercache gefunden werden!

Alles wurde gut entdeckt und peilgenau konnte die Dose in den Händen gehalten werden.
Ist ein bisschen feucht alles... der Eintrag ins Logbuch klappte aber!
Favo in!

Vielen Dank an Suchherby für's Herführen und Verstecken!


24 February 2016 following wrote a note
Die Zahl mit der Peilung auf der Wandertafel gibt es wohl nicht mehr. Die Richtung beträgt ca. 240-250°, mehrere hundert Meter den Weg entlang bis zur Gabelung usw.

15 December 2013 *Neo* found the geocache
Zusammen mit meinen Hunden habe ich heute eine schöne Wanderung mit ein paar Höhenmetern genossen. Dank der Beschreibung im Listing konnte die Dose gut gefunden werden. Wir sind danach noch ein Stückchen weiter gewandert und habe die tolle Aussicht genossen. Leider waren die Wege heute ziemlich matschig und wir sahen anschließend aus wie die Schweine[:D] Wandern macht hungrig und so fuhren wir noch zum Event der Leseeule wo wir auch auf den Owner trafen[:)]

TFTC und viele Grüße
[s]Team[/s] Frau Chihuahua

27 September 2013 masati found the geocache
Hier war ich schonmal vor längerer Zeit und hab den bei GC.com geloggt. Jetzt logge ich alle gefunden nach und nach auch hier. Die Plattform soll ja nicht vernachlässigt werden.

masati sagt DFDC

13 January 2013 Columbus. found the geocache
Auf dem Rückweg von unserer heutigen Winterwanderung auf dem Oberlübber Berg kamen wir direkt bei den Startkoos vorbei. Hier fanden wir einen schönen alten Multi, der auch ohne weitere Koos und Zwischenstationen auskommt. Hat Spaß gemacht.
Vielen Dank und viele Grüße.

[Show all log entries]