Descrizione Deutsch · English (Inglese)
Rope Adventure II


(Silver Shadow)

! Attention rappeling down cache. Only doable with climbing equipment!

You will need the listed equipment and the necessary experience to use it. You should not try this cache if it is wet or if ther is snow.


! ! !
This Cache is much more difficult than "Rope Adventure I"

! ! !
the Cache is placed about 17m high on a hanging over rock face
! ! !
which is about 20 m high.
From the parkinglot to the cache you have to walk about 1.5km and altitude difference of about 150m, so maybe look for someone who carries your equipement to the cache ("Sherpas", Girlfriend or Friend).
It's a little bit a challenge to find and reach the point for your rope.


Here is what you need
Climbing rope 60 meters for rappelling down or 30 meters for rappelling down on a single rope Climbing harness Rappelling device (figure 8 or ATC) Prusik loop (to be able to take your hands off the rope in mid air)
It could be a good idea to take a bag or something like that with you, because the cache is fixed on the rock so that you have to do the trade and log at the cache.
To log the Cache you need the Code which is writen on the page of your log in the logbook.
(Rectangle with two charaters/numbers).
It would be nice to have foto of you at the cache.
Contents:
TB George Bush Lobbook and Pencil(please don't remove)
Parkplatz / Parking Area (Parking Area) N 49° 33.093 E 011° 31.468. Cache (Spoiler)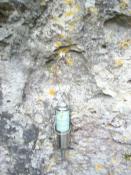 Silver Shadow (bad image quality) Fixpunkt Hint 1 Fixpunkt Hint 2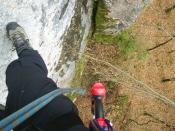 Blick vom Cache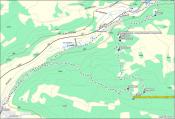 Map/Track/Waypoints Norissteig
Questa geocache probabilmente è situata in una riserva naturale (Info): Landschaftsschutzgebiet Ausweisung des LSG "Nördlicher Jura" (Informazioni), Naturpark Fränkische Schweiz-Veldensteiner Forst (Informazioni)

Cerca geocache vicine: tutte - ricercabile - stesso tipo



Scarica come file: GPX - LOC - KML - OV2 - OVL - TXT - QR-Code

Scaricando questo file accetti i nostri termini di utilizzo e la Licenza dati.