Descripción Deutsch (Alemán)
This cache is situated in the near of the castles of Ribeauville.
If you like , you can follow a round tour of 2 ? 3 hours.
We found a parking place at
N 48° 11.596
E 07° 18.986
The start is at
N 48° 11.934
E 07° 18.915
There is also a parking place. Try to find !
Follow the sign ?Chateaux? , later ?Chateau Ulrichsburg?. Take time to visit the castle. You will see ?Chateau Girsberg?. Don´t forget to walk to this castle because there is a great view !
Now you can go to the Cache. You find it at
N 48° 12.275
E 07° 18.192
For hint look to the spoiler ! You found it ? !!!
Don´t forget to log !A nice possibility to go back is to follow the way ? Dusenbach? . At
N 48° 12.306
E 07° 17.832
go left to ?Dusenbach direct?.
Sorry , the last five hundred metres you have to follow a street. Good hunting !!
Small note on cache maintenance: The cache place is in a distance only four hours with the car to reach. If it is reported missing or damaged , it is no problem for us to look for it at the following weekend. In addition to this we are often in this region for a weekend. Spoiler ! The cache place
Spoiler ! The guard of the cache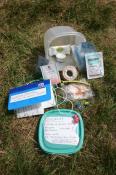 The first contents of the cache

Buscar geocaches en las inmediaciones: todo - búsqueda - mismo tipo



Descargar como archivo: GPX - LOC - KML - OV2 - OVL - TXT - QR-Code

Al descargar este archivo, aceptas nuestros terminos de uso y Licencia de Datos.